dead sea salt spa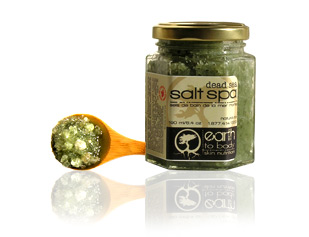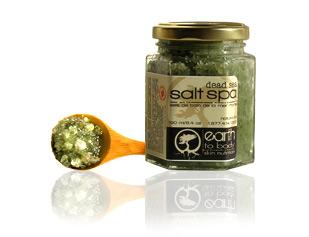 "Our Dead Sea Salt Spa bath is wonderfully cleansing and nourishing on the skin. Our gentle and moisturizing spa mix purifies the skin, removing oil, dirt and toxins. Excellent for acne prone skin. Immerse yourself into a bath of reviving waters or enjoy it in the shower as a cleaning exfoliant." Earth To Body
For very dry, itchy skin, an excellent supplement to our salts is the X Cream.
Ingredients

Dead Sea Salt (sodium chloride) The waters of the Dead Sea are unique compared to other seas and lakes primarily due to the high concentration of salts reaching 27% compared to 3% in ordinary seawater. (see further explanation above)

Sweet Almond Oil (prunus amygdalus dulcis) is rich in minerals, vitamins and proteins. It is an excellent lubricant that is softening, revitalizing and nourishing to all skin types. Sweet almond oil brings relief to dry itchy skin.

French Green Clay (Montmorillonite) is naturally occurring clay making a wonderful addition to our Dead Sea Salt Spa. Externally, it is known for its absorbing properties to remove excess oil, dirt and toxins from the skin. Clay can be used to balance combination skin, normalize oily skin, and revitalize dry skin. Green clay is rich in vitamins and minerals, and has antibacterial and antimicrobial cleansing properties that help soothe skin irritations. It leaves the skin feeling silky smooth.

Chlorophyll is a green pigment (magnesium) found in most plants. It is non-irritating, soothing to the skin, and totally non-toxic. Chlorophyll has an antibacterial cleansing action and is known to remove unpleasant body odors.
Vitamin E (tocopheryl acetate) is a major anti-oxidant nutrient. When added to the Spa mix it plays a role in anti-aging of the skin by reducing the appearance of fine lines and wrinkles, helping the skin to look younger. Along with the cleansing action of the salts, Vitamin E soothes dry, itchy skin often associated with eczema and psoriasis.
Lavender (lavendula augustofolia) Gentle lavender aroma is delightfully sweet, smooth and relaxing. Besides being emotionally soothing, the lavender addition helps to relieve the daily stresses on the skin. In our Earth To Body spa, lavender balances the body and mind, relaxing the skin. Excellent for refreshing tired muscles, and sore feet.

Lemonseed Extract (citrus medica limonum) is a bio-citrus extract used as our natural preservative.
Testimonials
"Recently I have developed unexplainable allergies. I cannot wear makeup, nor use commercial creams or lotions. Earth To Body's Dead Sea Salt Spa Bath has been my saviour. I bathe in it everyday and the minerals and oils soothe and mositurize my skin. I also have eczema and this mineral rich bath is a wonderful comfort." - Dr. Barbara McManus, Montreal, QC
"I have actually swam in the Dead Sea and know the salts are wonderful healants. Your spa bath is extra special with the additional ingredients. I use the salts as an exolliant in the shower but I love the bath the best. I don't need lotion after because of the sweet almond oil." - Cornwall, ON
"I have terrible psoriais, inside and out. After soaking in Earth To Body's Spa bath I slept straight through the night without scratching. This was the first time in over 6 months I felt relief." - Sudbury. ON
about dead sea salts
At 394 meters below sea level, the Dead Sea is the most saline rich natural body of water in the world. Rich in minerals, (calcium, sodium, bromine, potassium, magnesium) the Salts found along the shore are unique in character and famous for their revitalizing properties. Earth To Body's Dead Sea Salt Spa, with added oils, vitamin E, air-dried green clay and Le Saunier Atlantique salt nourish, moisturize and exfoliate your skin. The benefit of the concentrated minerals will leave your skin, relaxed, stress free smooth and silky.
Use as a gentle body scrub at the sink or in the shower or scoop approximately 1 to 3 tablespoons of Salt Spa into your bath water. Allow salt to dissolve 2 to 4 minutes. Relax for 15 to 20 minutes while the salts nourish and heal your body. Rinse salts off under the shower.
Use Our Dead Sea Salt Spa to
Spoil yourself or a friend with a gift of life from the Dead Sea.
Relax and energize
Add nourishment & softness to your skin
Deep cleanse the pores, killing bacteria and removing toxins
Exfoliate the skin for younger, fresher looking skin
Allow the bath waters to massage tired muscles and pain