tamanu cream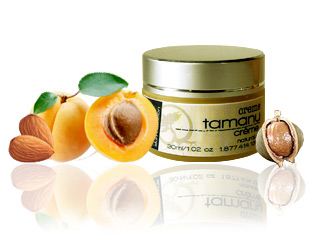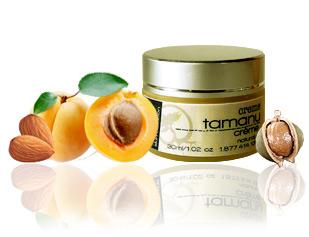 "Our trusted and true cream formula welcomes the treasure of Tamanu, the exotic South Pacific island oil. With the unique additions of Camellia and palmarosa, this new blend enhances toning, rejuvenation and skin moisturizing. Our Tamanu Cream offers exemplary nutritional support for both normal and troubled skin and can be used anywhere where miracles are desired. Very popular for the face." Earth to Body
Ingredients


Sweet Almond Oil (prunus amygdalus) is rich in minerals, vitamins and proteins. Excellent lubricant that is softening, revitalizing and nourishing to all skin types. Great for dry itchy skin.

Cocoa Palm (cocos nicifera palm wax) Used as an Emulsifying wax to hold water and oil in suspension.

Apricot Oil (prunus armeniaca) is rich in the essential oleic and linolenic fatty acids and is known for its ability to penetrate the skin without leaving an oily feel. It moisturizes and revitalizes dry or aged skin.

Cocoa butter (theobroma cacoa) is a wax obtained from the roasted cocoa bean (Theobroma). Its light creamy consistency has emollient qualities and absorbs quickly into the skin.

Calendula (calendula officinalis) derived from the dried flowers of golden marigolds, soothes chapped, dry skin, reducing the appearance of wrinkles by firming and toning the skin.

Comfrey (symphytum officinale) Comfrey has been used since ancient times and is one of nature's greatest skin soothers. Comfrey is especially renowned for dry skin, helping to reduce the appearance of aging, making the skin youthful looking. An excellent addition to our tamanu cream

Jojoba oil (simmondsia chinensis) Excellent moisturizing and emulsifying properties. Jojoba is rich in Vitamin E, contains proteins and minerals. The oil is wonderful for people who suffer dry, itchy skin. Jojoba soothes and softens the skin.

Glycerin (Vegetable) A favorite in keeping the skin soft. Glycerin has been used in cosmetics for thousands of years as a solvent, plasticizer, humectant, emollient, and a lubricant. Vegetable Glycerin is known to moisturize and soft skin tissue

Tamanu (calophyllum inophyllum) oil's mild and pleasant aroma and luxurious feel make it ideal in soaps. Oil of Tamanu absorbs readily and adds a glow to skin, without any residual greasiness or oiliness. Tamanu oil has been shown to improve skin appearance by improving skin elasticity, firmness and smoothness. It possesses a unique fatty acid, Calophyllic Acid, bcomponents are Lactone, Calophyllolide and Courmarins.

Vitamin E (d-alpha tocopherol). This full spectrum tocopheral is a natural preservative that helps sustain shelf life of products. It plays a crucial role in protecting skin cells and membranes from environmental dryness.

Lemonseed Extract (citrus medica limonum) is a bio-citrus extract used as our natural preservative.

Palmarosa (cymbopogon martini oil) is especially beneficial for soothing aggravated dry skin conditions. It has a most beneficial effect on balancing the production of skin sebrum (oil) helping to tone and moisturize the skin.

White Grapefruit (citrus grandis) oil is cold pressed from the peel of the grapefruit. It has a fresh, sweet, citrus scent. Some traditional uses include relaxing muscle fatigue and as an astringent for oily skin. It is refreshing and energizing

Camellia Seed Oil (camellia sinensis) Camellia is a type of evergreen shrub. Moisturizing camellia oil is excellent when used around the eyes and mouth to soften wrinkles and tiny maturity lines and protects the skin from drying out. Camellia contains Vitamins A, B and E, minerals and squalane oil, an important component of the skin's natural emollient system. A deficiency of squalane can result in dry skin and premature aging, resulting in wrinkles and sagging skin.

Vitamin E (tocopheryl acetate) is a fat soluble, anti-oxidant nutrient that soothes, moisturizes and improves the texture of the skin.
Testimonials
" I love your Tamanu Cream! 
For the past dozen years, I have been affected by Rosacea, a burning, red and unsightly facial rash triggered by heat sunshine, humidity, stress, spicy food, chocolate, and any strong emotion from embarassment to pride.
Prescription remedies have been of less than marginal help. But finding Earth to Body has made a huge difference in my life. I've been using many of your products for a few years and can't be without many of them. And I have really appreciated the helpful suggestions of your team members at various Craft Shows over the years.
But for me, the Tamanu Cream has been life changing - so calming and comforting and moisturizing on my face, it is reducing the impact of Rosacea, and providing a boost to my confidence and a balm to my spirit. 
Can't thank Earth to Body enough for making me comfortable in my own skin again!" Judy R., Ottawa, ON
"I just started using your Tamanu Cream. It is amazing! The texture is creamy, luxurious and nourishing. I have skin that's on the sensitive side. The Tamanu Cream is non-irritating and highly moisturizing. Thank you!" Grace S., Toronto, ON

"Finally, a product that has cleared up a acne problem that no doctor has been able to solve for me without the help of meds. All natural, this is a wonder cream. Will be picking up more of the cream and the roll on this weekend, can not be without it. Please, do not hesitate in purchasing this product, it works!"
T. Martin, Toronto, ON
"I just purchased the Tamanu cream on the weekend and I must say it's simply 'LUXURIOUS' on the face. Wow!!!!" Connie Hanlon