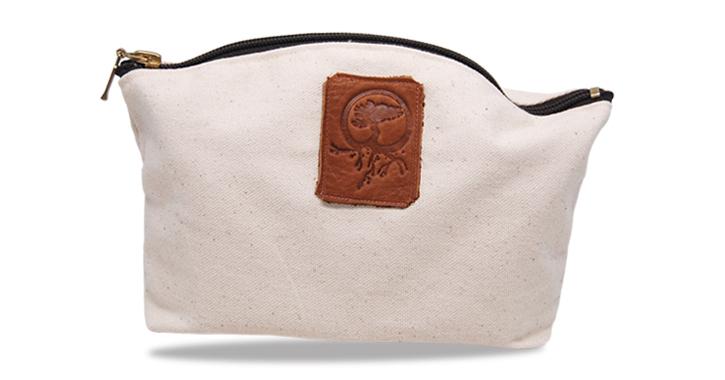 Our specially designed cosmetic/travel bag, custom made by 'Eklektika'.
(As part of the circuit of 'travelling vendors'', we are always pleased to support vendor friends.  We were thrilled when Barb and Maureen agreed to custom hand make these bags for you. Do check out the Eklektika bio
*This delightful traveling cosmetic bag is 9" wide, 6" high and 2" wide at the base. It is made with sturdy 100% natural cotton canvas and lined with moisture resistant, luxurious microfiber.
*The 2" gusset inserted at the bottom of the bag allows the bag to 'stand up' for easy access from the zippered top.
*Our Earth To Body logo is leather embossed on the front.
*This Travel/Cosmetic bag is a wonderful companion to carry your favourite Earth To Body products.
*Select as a gift for yourself or a loved one.
As a special BONUS, we shall include in your bag a FREE Castile Coral Key Lime Soap (value $7.00).