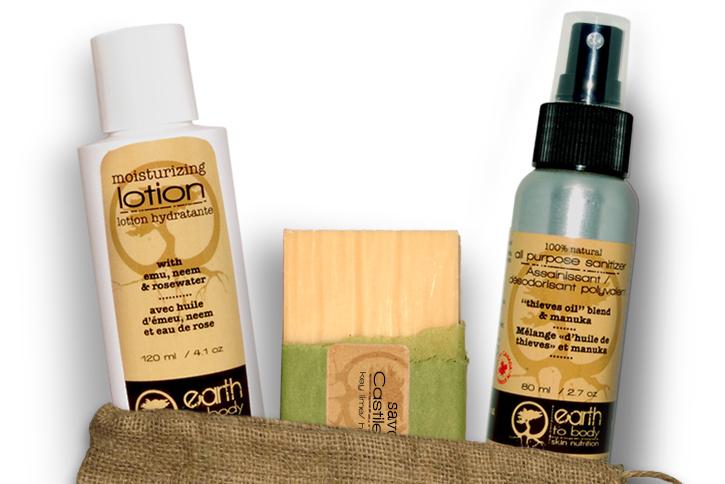 See NEWS details re shipping
Covid-19 is an uncertain time. Unprecedented. We are saddened at the show closures and that we cannot serve you in person. We do, however, continue to have a good online and phone service. We know you are needing to wash, disinfect and moisturize. Constantly. We have introduced a new product package that will help:
'Hands On' Package Includes:
Castile Coral Key Lime Soap  (3.5 oz)  $ 8.00
Moisturizing Lotion (120 ml)               $22.00
All Purpose Sanitizer (80 ml)              $15.00
                          Total value: $45.00
Cost of 'Hands On': $38.00
Save: $7.00
Benefits:
* Cleanse the old- fashioned way. Soap is soap and it cleans.
* A complete cleansing and moisturizing package
* Totally chemical free. Skin issues are soothed rather than aggravated 
* Alcohol free sanitizer. Especially good for those who are sensitive to alcohol and/or formaldehyde *
* Sanitizer can also be sprayed onto facial masks and or filter inside mask pouch (if mask has a filter pouch )
How to Use:
* Wash hands scrubbing well for over 20 seconds, as recommended, for best sanitation. Sing your favorite song.
* Spray with sanitizer on body and on surfaces as needed. Love the cinnamon scent.
* Apply hand lotion and feel amazing
Additional Product Suggestions:
Essential Oils
Manitouka Scrub (bath or shower)
Apple Cider Vinegar
Skin Soothers:  Cream and Lotions and Butters and Balms
At this time of Covid-19, we understand sanitizers with over 60% alcohol are highly recommended. We make no claims that our sanitizer replaces the recommended. You may prefer, in addition, a non-alcohol based sanitizer due to sensitivities or concerns, and if so, you will love ours.