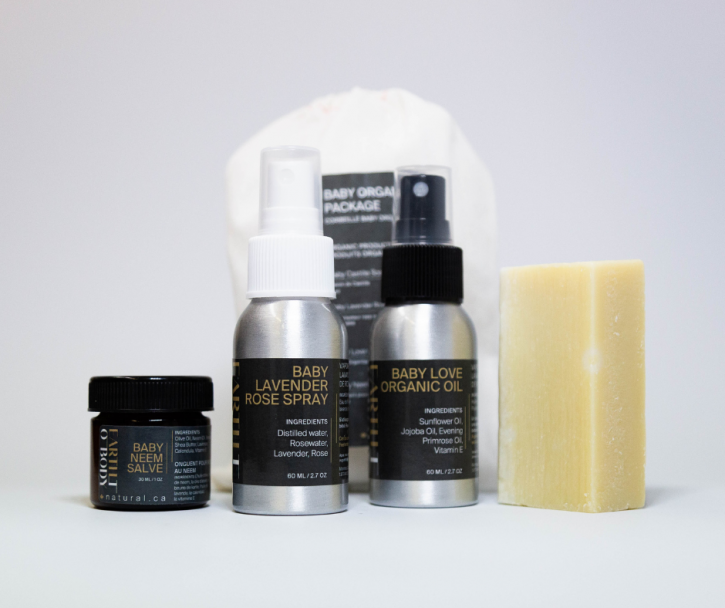 "Our Baby Organics Package* includes the basic baby necessities for baby and parent: a gentle cleansing soap, a calming spray, absorbable and loving massage oil and a soothing, protecting diaper area salve. Each item is 100% natural. We use no artificial preservatives (parabens), alcohol, toxins, fragrances or dyes. Healthy nutrients for baby's skin is our utmost priority." Earth To Body
Baby Package includes:
(Each of the following Earth To Body items may be purchased separately. Click on item name for individual purchase)
Baby lavender rose spray
This gentle cleansing organic hydrosol is a perfect diaper area spray to replace chemical baby wipes, leaving baby feeling clean, calm and comfortable. Ideal also as a linen spray and room freshener.
Full Ingredient list: lavender * (lavendula augustafolia), rose** (rosa damascene)
* organic ** wildcrafted
Baby neem salve
Full Ingredient list: olive* (olea europaea), neem** (azadirachta Indica), natural beeswax, shea** (butyrospermum parkii), lavender* (lavendula augustafolia), calendula (calendula officinalis), Vitamin E (d-alpha tocopheryl) 
* organic ** wildcrafted
Baby love organic oil
Our Baby Love Organic Oil is made with sunflower, jojoba and evening primrose carrier oils rich in vitamins (A, D, E) and omega fatty acids. Babies love a massage and this absorbable oil is a perfect nutritious moisturizer.
Full Ingredient list: sunflower* (helianthus annuus), jojoba* (simmondsia chinensis), evening primrose* (onenothera biennis), Vitamin E ((d-alpha tocopheryl) *organic
Baby castile soap
Handcrafted with baby in mind, this nutritiously gentle and scentless castile soap is based with pure organic olive oil. The addition of palm and coconut oils make this naturally soothing for baby's sensitive skin. Make sure to avoid eyes
Full Ingredient list: olive* (olea europaea), palm (elaeis guinnesis), coconut (cococ nucifera) cocoa butter (theobrama cacoa), shea** (butyrospermum parkii) *organic **wildcrafted