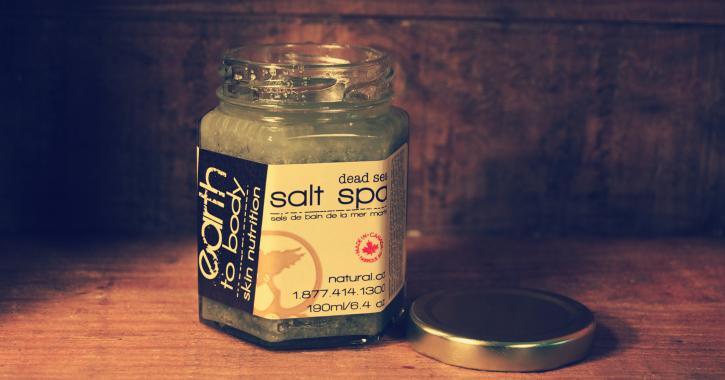 "Our Dead Sea Salt Spa bath is wonderfully cleansing and nourishing on the skin. Our gentle and moisturizing spa mix purifies the skin, removing oil, dirt and toxins. Excellent for acne prone skin. Immerse yourself into a bath of reviving waters or enjoy it in the shower as a cleaning exfoliant." Earth To Body 
For very dry, itchy skin, an excellent supplement to our salts is the X Cream.
about dead sea salts
At 394 meters below sea level, the Dead Sea is the most saline rich natural body of water in the world. Rich in minerals, (calcium, sodium, bromine, potassium, magnesium) the Salts found along the shore are unique in character and famous for their revitalizing properties. Earth To Body's Dead Sea Salt Spa, with added oils, vitamin E, air-dried green clay and Le Saunier Atlantique salt nourish, moisturize and exfoliate your skin. The benefit of the concentrated minerals will leave your skin, relaxed, stress free smooth and silky.
Use as a gentle body scrub at the sink or in the shower or scoop approximately 1 to 3 tablespoons of Salt Spa into your bath water. Allow salt to dissolve 2 to 4 minutes. Relax for 15 to 20 minutes while the salts nourish and heal your body. Rinse salts off under the shower.
Use Our Dead Sea Salt Spa to:
Spoil yourself or a friend with a gift of life from the Dead Sea.
Relax and energize
Add nourishment & softness to your skin
Deep cleanse the pores, killing bacteria and removing toxins
Exfoliate the skin for younger, fresher looking skin
Allow the bath waters to massage tired muscles and pain