zinc oxide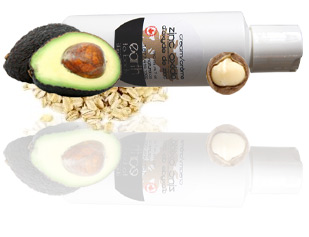 100% natural | 120 ml 4.1 oz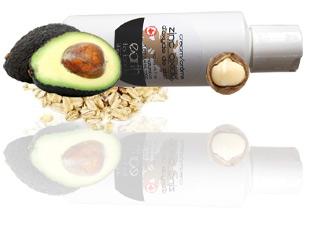 "Macadamia oil and zinc oxide (18% zinc oxide) contribute to making this cream ideal for strong weather elements, and the resulting skin irritations. It is a heavier cream, and beautifully absorbing into the skin. Along with Shea butter, avocado, vitamins and carefully selected essential oils, this 100% natural skin nutrition also soothes, softens and protects. Enjoy summer, winter, indoors and out! " Earth to Body
Before using, open lid to make sure oil has not risen to the top (as happens with natural peanut butter!) If it has, shake or give a little stir. This can occur when a product is totally natural.
Ingredients

Avocado Oil (persea gratissima) contains protein, amino acids, and high levels of vitamins such as vitamins A, D, and E, giving our soap extra skin nourishment. It¹s known to restore and re-moisturizer the epidermis. Repeated applications of moisturizing butters, oils or lotions made with Avocado oil reveal an increase of hydration of the upper layers of the skin, and an improvement of the skins elastic properties


Sesame Oil (sesamum indicum) Sesame oil makes a wonderful moisturizer for the skin. Distinctively sweet and nutty in aroma, it is light yellow in color. It has a high content of minerals such as calcium, magnesium and phosphorus and is rich in Vitamin E and B complex .


This natural white mineral pigment provides an effective moisture barrier to soothe sensitive skin. An ingredient in many skin preparations that has a mild astringent action and soothing effect. It can be used to soothe, itchy or moist skin conditions. Zinc's natural white pigment is used to impart opacity on the skin.
Read about zinc oxide as a natural sunscreen.


Macadamia Oil (macadamia integrifolia) Macadamia oil's rich, cushiony skinfeel and high oxidative stability make it especially suitable for heavy creams. It is easily absorbed and has definite moisturizing benefit.


Shea Butter (butyrosperum parkii) is from the wild shea trees of Africa. It is organically grown, unrefined and fair trade. It is known for its cosmetic properties as a moisturizer and emollient. It can lessen dry skin irritations and has a skin softening effect, making it most desirable in any cosmetic.


Cocoa Butter (theobroma cacoa) is a wax obtained from the roasted cocoa bean (Theobroma). Its light creamy consistency has emollient qualities and absorbs quickly into the skin.


Beeswax (unrefined, natural) is a rich source of carotene. Beeswax is one of nature¹s most wonderful ingredients to use as a thickening agent, emulsifier, and humectant. It has wonderfully emollient, soothing and softening properties and helps the skin retain moisture.


Aloe vera (aloe barbadensis) gel juice is calming on the skin and the major reason to incorporate it as cosmetic ingredient. It is soothing, toning, protective and moisturizing to the skin.

Vitamin E (tocopherol acetate) Vitamin E is vital in protecting skin cells from ultra violet light, pollution, drugs, and other elements that produce cell damaging free radicals. Excellent as an addition to cosmetics to help sustain shelf life.

Vitamin C (ascorbic acid) . Improve skin appearance by reducing fine lines and wrinkles, aids in stabilizing collagen, an essential skin protein. It helps protects against or lessens the severity of sunburns.


Camellia (camellia oleifera) Praised as the beauty secret of the Geishas, this very precious oil has been recognized for centuries in Eastern Asia for its highly restorative and rejuvenating effect on skin. Camellia oil is an excellent emollient and wonderful skin moisturizer. It helps to restore proper pH balance and has a buffering quality that acts as an effective shield to protect skin from penetration of environmental pollutants.


Carrot Seed Oil (daucus carota) is mainly obtained from wild carrots, usually found in Europe. Our Carrot oil is an infusion of wild macerated carrot in canola oil with vitamin E and is considered one of the best essential oils for mature skin. It is believed to help remove toxins giving the skin a more toned, smooth and youthful appearance.


Sandalwood Oil (santalum album) essential oil has a rich, woody, earthy scent that many feel contain aphrodisiac qualities. Sandalwood has calming and soothing effects. For all those dedicated to having beautiful skin this is one of the most useful oils and is a classic choice for dry skin irritations, itching, redness, and sensitivity.


Lemonseed Extract (citrus medica limonum) (organic) is a bio-citrus extract used as our natural preservative.

Testimonials
"We love your products. Our whole family uses them! Thank you for making such, safe, wonderful and natural products. We are also happy that they are made here in Canada." Erin F., Ottawa
"I love the zinc oxide on my kids. It is such a natural and safe sun block and they never mind when I put it on them. They love it." Kelly W. Toronto
"I had a rash for years that I could not get rid of ! II had tried absolutely everything. Your zinc oxide cream did the trick. Thank you." (a customer in our booth)
Related Articles
If you have a skin condition like acne, eczema, or psoriasis it is best to consult a health care professional. Your naturopath can help you understand the importance of avoiding chemicals and synthetics in both food consumption and body care.