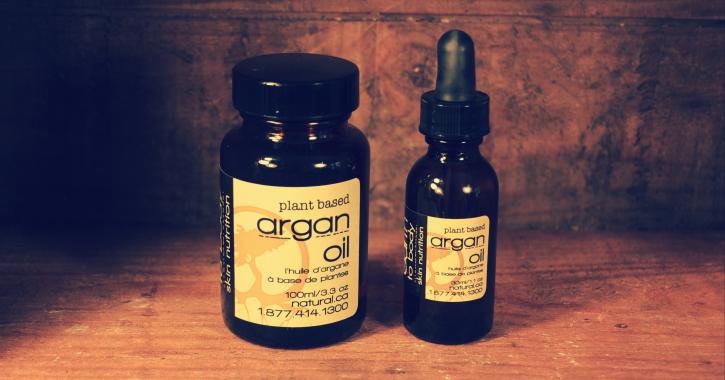 The Cosmetic Use of our Eco-Certified, fair-trade Argan Oil:
Protects skin after sun and cold weather exposure!
Strengthens brittle nails and hair
MASSAGES tired muscles and pain
Alleviates dry and itchy scalp
Moisturizes and rejuvenates the skin!!
Click here for the Eco-Certification.
We have a 30 ml bottle of argan oil available, with a dropper.
Please visit TARGANINE (the co-op where we purchase our 'cold-pressed' argan oil) . We use the non roasted argan oil.
Because our argan oil is in its natural state, the smell can vary from batch to batch, and sometimes has a slight nutty smell. The smell is subtle and will not linger.
On Skin: Beautiful anywhere on the body. Especially popular on the face as a moisturizer. Argan is not greasy and absorbs beautifully.
On Hair: Use a very small amount to condition the hair. (If you moisturize the skin with argan oil, the small amount left on the hands is plenty!) Apply to ends of hair and finger comb through. Adds shine and body. Wet or dry. 
Scalp and Hair Treatment: Apply about 5-15 ml argan oil to hair (depends on length of hair) and work into the hair and scalp. Leave on for several hours or overnight. Wash out.
On Nails. Work into nails to strengthen and nourish. As often as desired.
The following discussion is a testament from EcoCert on the Cosmetic Properties of Argan Oil.
"Argan Oil has been shown to reduce the appearance of fine lines and wrinkles, strengthen elasticity, protect against stretch marks, and improve your skin's overall health and vitality. Traditionally, the women of Morocco have utilized argan oil as the foundation of their beauty regimen, applying it to their skin, hair and nails. Recognized as a fundamental element in cosmetic care, argan oil is now being used in several beauty products. Researchers who have completed extensive studies identify the benefits of our oils and strongly recommend its cosmetic use.
The combination of traditional values and scientific expertise has yielded an inventory of several amazing active ingredients from the argan plant. Not only are these components beneficial to the skin's overall structure and elasticity, but are beneficial to the environment as well; they are produced sustainably and traded fairly.
Argan Oil is food for your skin. Similar to your body's inherent need for nourishment, your skin must be replenished and fed in order to remain healthy. Due to environmental stress, your skin is constantly being deprived of the nutrients needed to maintain its necessary levels of hydration and collagen. 
Acidity in Oleic acid: Maximum o,8%
One of the rarest anti-oxidant plant-based oils in the world.
Contains twice as much Vitamin E as olive oil, helping skin from aging prematurely.
Contains linoleic essential fatty acid (omega 6).Always test first. Argan oil is a nut oil. (If you are susceptible to anaphylactic shock, although not common, it is possible that you could also have an allergic reaction to argan oil.)