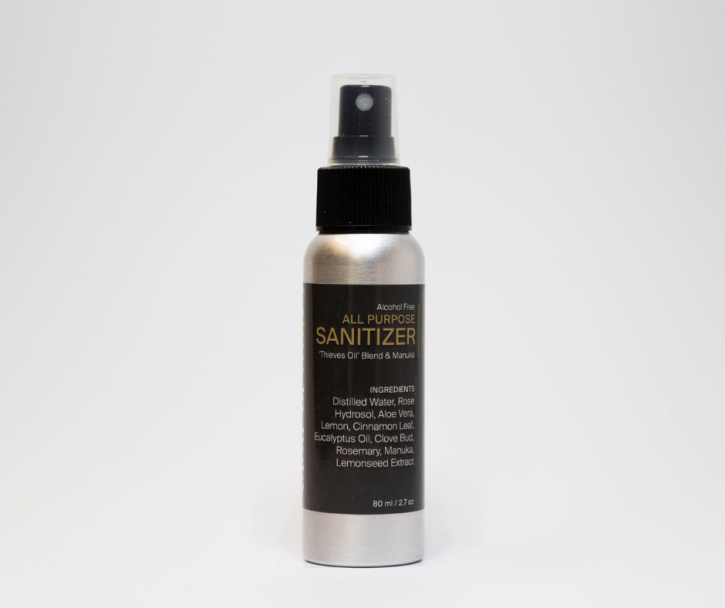 Benefits:
* Free of the commonly added alcohol and formaldehyde
* Made with Earth to Body's own 'concoction ' of thieves oil**, with our own additions
* Disinfects, refreshes, invigorates
* Generally used on hands to disinfect but can be used where needed
* Natural sanitizing properties of cinnamon and a fresh scent
* Perfect alternative to public offerings of commercial soaps
* Disinfects yoga mats, sports equipment, sneakers, boots etc
** WHAT IS THIEVES OIL?
As the bubonic plague decimated Europe in the year 1413, four thieves were captured and charged with robbing the dead and dying victims. When the thieves were tried, the magistrate offered leniency if they would reveal how they resisted contracting the infection as they performed their gruesome acts. They explained that they were perfumers and spice traders and told of a special concoction of aromatic herbs, including clove and rosemary, that they rubbed on their hands, ears, and temples.
How to use:
* On hands: Spritz as needed. Massage in
* On mats, footwear etc. Spritz as needed
Tips:
* Carry in purse or bag 
* Unbreakable container has proven excellent for children. Can be carried in backpack, for desks, lockers, etc
Storage and Travel:
* Room temperature storage if used up within 5-6 months.  Or fridge.
* Unbreakable container travels well.  Can be a 'carry-on' for air travel
At this time of Covid-19, we understand sanitizers with over 60% alcohol are recommended. We make no claims that our sanitizer replaces the recommended. You may prefer, in addition, a non-alcohol based sanitizer due to sensitivities or concerns, and if so, you will love ours.​