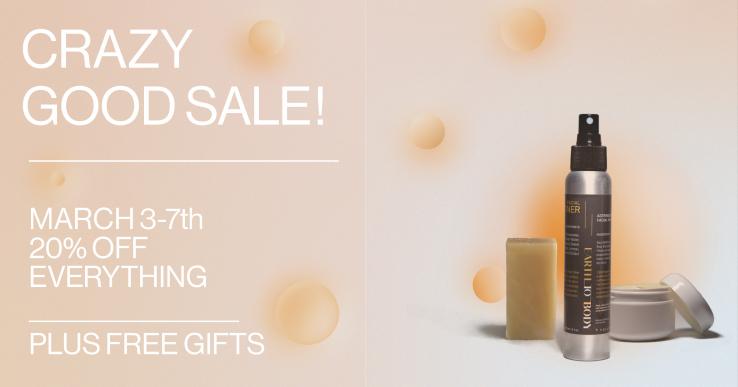 A Crazy Good Sale
March 3-7 2022 (EST)
5 days only
20 % off EVERYTHING*
Plus, Free gifts
Over $100.00 a regular shampoo bar
Over $120.00 a regular shampoo bar and facial toner**
Over $150.00 a regular shampoo bar and facial toner and skin care moisturizer
Be clean
Be fresh
Be moisturized
Gifts are based on total AFTER the 20% discount, BEFORE shipping and taxes.
Check 'Total purchase' on your packing slip to see if you qualify for the gift(s).
If this total is over $100.00 we will happily include your gift(s). 
The gift(s) will not appear on your packing slip, but we won't forget!
Shipping free over $125.00
Only $7.50 under $125.00 
*Special does not include the Skin Management Program, Baby package,
the X Package or the Essential Oil Package as they are already discounted.
** Sneak Peek at our new label