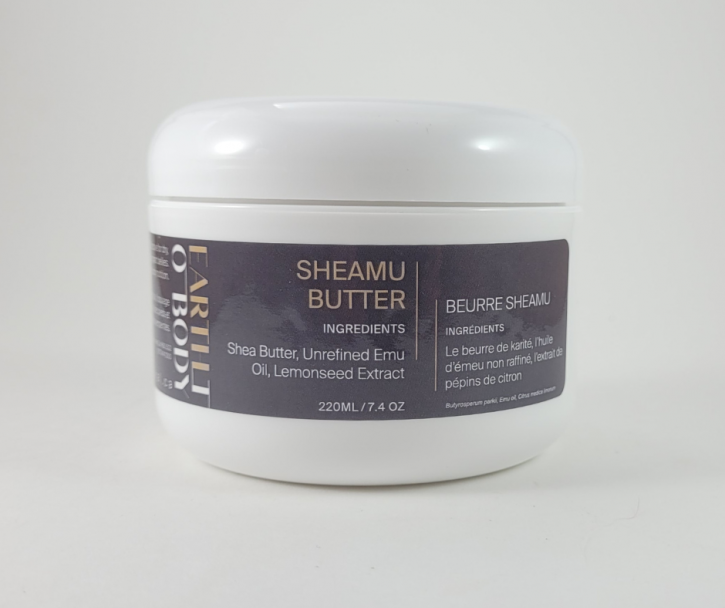 Benefits:
* Contains unique blend of organically grown shea butter and unrefined emu oil
* Reduces appearances of wrinkles, scars and stretch marks
* A rich body butter to combat weather toll on dry skin.
* A perfect massage treatment
* Excellent on damaged, dry, cracked hands or feet, rough, itchy skin
* Conditions and treats hair and scalp
* All over. All ages. All skin. All beautiful
Our co-op shea butter source
How to Use:
* Due to our Sheamu Butter's natural, unrefined texture, it may be necessary to melt the butter between the palms of the hands to dissolve the tiny granules.  Melt until a butter like consistency and use as an all over body mositurizer
* Can be inserted directly into foot cracks.  A sock helps.  Leave on overnight
* As a hair conditioner: Melt a very small amount in palms of hands and run through hair  
* As a hair and scalp treatment: Work Sheamu butter through hair and into scalp.  Leave on several hours or overnight.  Wash out
* As a massage treatment: Our butter has the perfect glide desired for massage.  Relaxes  sore muscles
* As a belly butter : Massage onto pregnant belly as often as desired. 
* Use as often as needed. If you use natural soaps and no other chemically drying products, once or twice a week should be sufficient
Tips:
* Shea butter has a nutty smell, indicating its unprocessed, natural quality. With the emu oil addition, we have created a blend like no other 
* If you prefer an essential oil scent, add a drop or two of your favourite oil to your sheamu before applying
* If you prefer vegan, choose the Shargan Butter
 
Storage and travel:
* Room temperature usage. Most people use up within 6-7 months.  Some can be removed into a smaller container, if desired.  Keep the rest in fridge until needed.
* A perfect gift for travel, especially warm and sunny vacations
If you have a skin condition like acne, eczema, or psoriasis it is best to consult a health care professional. Your naturopath can help you understand the importance of avoiding chemicals and synthetics in both food consumption and body care.