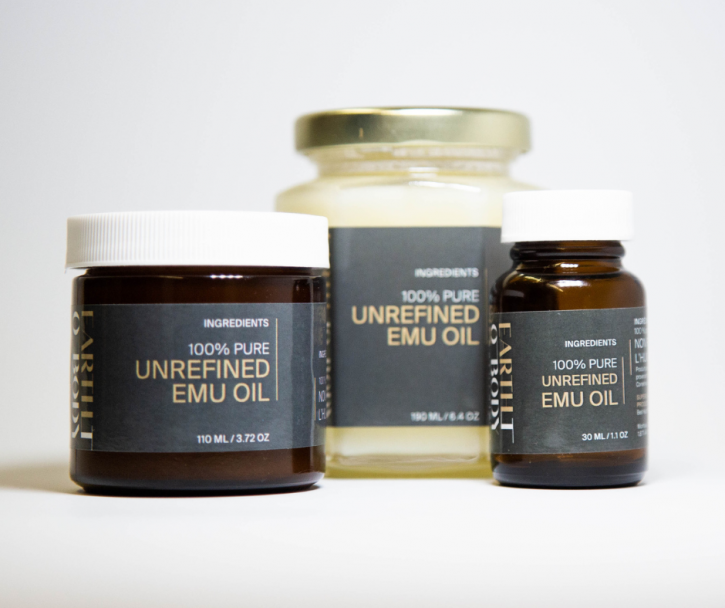 Due to Australia's drought, fire, Covid and culling, our cost of the oil has increased 50%. This will have to be spread out over several years but we have made an initial increase, roughly 30% for all emu products. The quality of Australian unrefined emu oil remains unsurpassed and we feel fortunate that we can continue to source it, as that in itself has become more difficult.  It is our customer feedback that encourages us and we thank you for your patience and understanding.  
Benefits:
* Moisturizes, conditions, nourishes 
* Reduces appearance of skin blotches, age spots,  inflammations
* Excellent on troubled skin
* Pure, unrefined*, Australian sourced emu is of superior quality
Unrefined Emu oil  See also See Blog: Emu Oil: Unrefined and Unsurpassed
* Cosmetically: Exceptional testimonials on all skins, problematic skin and anti-aging.
* While we sell our oil cosmetically, consult your health expert for therapeutic benefits such as denoted in the following documents presented by our Australian source
 Benefits of emu oil  and applications 
How to Use:
* Use small spatula or small spoon to remove some oil. (The larger containers can be kept refrigerated and some oil removed to a smaller container for use at room temperature if desired).  We include a sack in for the 190ml emu oil as it is not in a dark bottle.
* Best kept at cool temperatures to keep fresh.
* Room temperature for a few weeks is OK for convenience or travel. Shelf life 1-2 years in refrigerator.  Longer in freezer
Tips:
* Pure oil is completely baby safe
* Can be mixed with other favourite essential oils or carrier oils if desired
* Emu oil can be used anywhere on the body except in the eyes
* Can be used as often as desired
* Respect unrefined emu oil's shelf life by avoiding contamination
Storage and travel:
*When you order the 110 ml or the 190 ml size, we will send you a small pot. You can keep the larger bottle in the fridge (it will solidify) and then, using a small clean spoon, transfer some to the smaller bottle to keep where convenient. Any oil at room temperature is best used within a few weeks for best results. Use a small spoon or spatula rather than fingers to avoid contamination. Our unrefined oil can vary in its color, smell, texture and shelf life  When you make the transfer from the fridge into any smaller container, make sure the container is clean and dry.