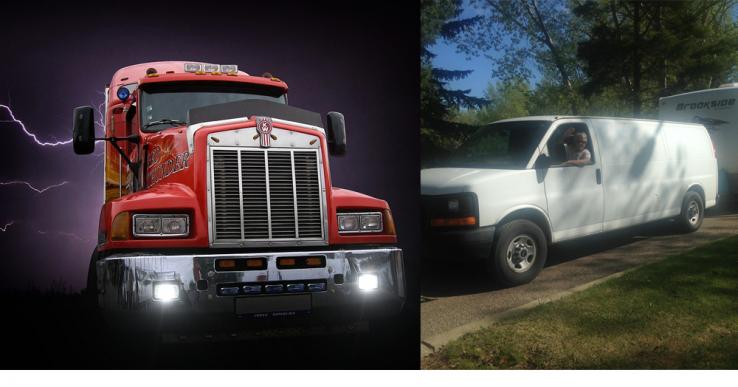 Every summer, in our GMC Savannah, pulling our RV 'tag a-long', we cruise the inside lane of the 401, from the East to the West.  A cross-country trek to deliver our own natural skin care products.  Market to market with our soaps, oils, salts, creams and lotions.
We do work hard.  We enjoy the adventure. We love the venues and meeting people from all over our country.  We know we live in one of the best countries in the world and we are proud to tour it every year.
John, my husband, drives.  I navigate.  An efficient combo.  
I devour the maps, man the phone. I knit, I nap, I wink at the cows. We blink through small towns. We navigate the ring roads around the cities.  We absorb the sounds of the radio and graze from the cooler.
But sometimes, on flatland, like in Southern Saskatchewan, I am courageous enough to take the wheel.
I'm driving on the inside line.  I sense the power gaining on my left, a shadow creeping beside me. I know I am going to be sucked in.  I grip the wheel, holding it steady, preparing for the swoosh trap.  It happens.  I win.  And finally, the long sleek body passes.  A survival sigh ensues.  I look over and see John, laid back, in a comfortable snore. He trusts me against the trucks." 
The inevitable confrontation with Goliath is ongoing. 
Powerful beasts, the 'Road Warriors'. Dynamic in their silvers, whites, golds, blacks and reds.  Logos portending power. Grills as teeth anxious to pounce. Animal wrath looming on the panel side as it soars past us on Canada's number 1 highway. 
An unavoidable and challenging omnipotence. 
Are they to be abhorred?  Admired?   Feared?
There is no escape.  Together, we challenge a common road space.
We cross paths with these rigs on the road, but not the drivers.  I often wonder if the trucker's neck gets sore from the constant driving strain.  John's does, but we always have our soothing oil handy to massage in relief.  I wonder what kind of life a trucker has, sleeping in the cab, showering at a Husky, grabbing a quick snack, or dining on a full course meal at stops catering to these hard working haulers.  
We sometimes travel in tandem with another vendor couple, their RV set up mirroring ours.   She relates this story.  It occurs at a truck stop, where she overhears a trucker describing how he hates RV's, calling us "pompous little vacationers, hogging the road, slowing things down".  My friend did not take that lightly. She chastised his arrogance, reminding him that SHE was NOT on vacation, that she was transporting her hand made product across the country, and that she was ALSO on a schedule.   Same as he, with every much right to travel the 401!
We will continue to travel, to be part of the circuit, to transport our goods to market. It is all part of what we do.
Hopefully, Goliath sees us differently now.
By Martha Shannon
.