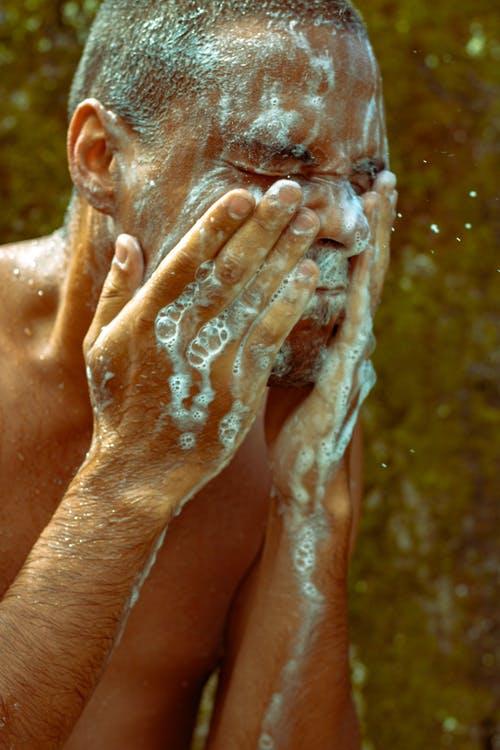 What if companies joked around. Tossed about the good, the bad and the ugly. Messed with us. Had fun. As in a fictional ad from a purely fictional company called 'The Cosmetics Con Company' advertising a purely fictional product called the 'Best Body Wash Ever.' 
The advertisement 
Best Body Wash Ever
The Cosmetic Con Company
Our Ingredients: Upfront and in your face
Water (eau), glycerin, cocamidopropyl betaine, sodium laureth sulfate, Cocamide MIPA. avena sativa (oat) kernel flour, sodium chloride, guar hydroxypropyltrimonium chloride, parfum, tetrasodium EDTA, glycol distearate, polyquaternium-10, quaternium-15, citric acid, sodium Isethionate, myristyl alcohol, avena sativa (oat) kernel oil, helianthus annuus (sunflower) seed oil, hydroxypropyltrimonium hydrolyzed wheat protein, hydroxypropyltrimonium hydrolyzed wheat starch, butylphenyl methylpropionalglycine soja (soybean) oil, avena sativa (oat) kernel extract, Geraniol and Linalool
Cool stuff, eh?  We don't hide our ingredients under cover. We don't list the key ones by themselves. We list them all in one foul swoop. We have nothing to hide. Don't worry if some sound a little strange. You might read some negativity about SLS, EDTA, the polys and the hydros. Bah!. We like to think positive. All is good. Life is great. Our Body Wash reigns!
Bathing in our 'Best Body Wash Ever' is your chance to be cool. Are you a risk taker?  Like a dare?  Not afraid of anything?  Lather in our body wash and come out clean. Don't worry about the possibility of it stinging your skin, or of hives or swelling.  Or, heaven forbid, the Big C.  You would have to leave it on for a long time for that to happen and our body wash is designed for a healthy wash, not a sleep over. Quick and easy. A cleaning machine.
If you are the overly sensitive type, maybe, just maybe you might have a reaction, like redness, itching, but that happens  only for the mollycoddled  and the blamers. There is no way you will be one of the ones whose eczema or acne surface. That is for the misinformed. It's not the body wash that causes irritation.  Something else is going on with those people. They just need to clean more often, not less. Ours is for those who know we would never make a body wash that was harmful. 
As for containing environmental toxins ? Come on. You are just one small fish in the pond. How much harm can you do?  A little itsy bit of body wash can hardly make a difference and besides, who has actually proven that our body wash causes harm? A conspiracy theorist on a rampage?
And don't believe them when they say that alcohols can cause cancer and tumors. That was only proven when animals were injected with high doses of it.  We can't even believe they tortured animals like that. Our body wash has never been tested that way. We are cruelty free. We know the amount of body wash you luxuriate in daily won't hurt you.  You won't feel anything but pleasure. That's what alcohol does, right? It also helps keep our product around for years. It can't go bad. So stock up. Buy tons. Use daily.  Enjoy the ''Best Body Wash Ever'.
If this ad were to appear, critical thinkers might then ask the right questions. Their answers would deter them from buying 'Best Body Wash Ever' and 'The Cosmetic Con Company' would go out of business. So, this ad is not going to happen. 
Let's whine a little less. 
Try our Earth to Body soaps and shampoo bars.
As an alternative
.