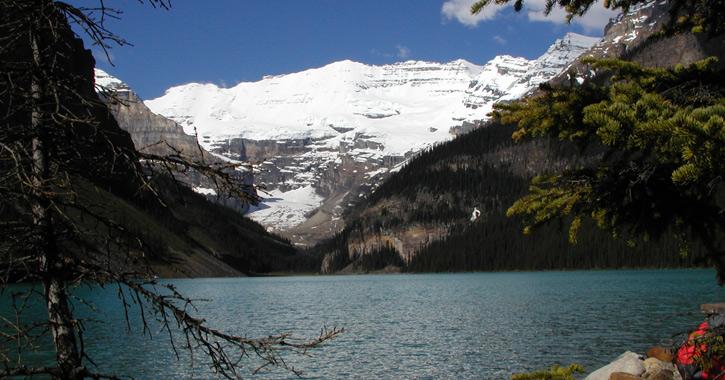 It's been almost 40 years since we first visited Lake Louise. It was 1974, travelling in our Westfalia Volkswagen van on a cross Canada, USA and Mexico year long tour. We were young, adventurous and Lake Louise was a calling. The glacial mountains framed a jewel of paradise. And that day the sun blessed us, transforming the glacial waters into a magnificence of turquoise that left us breathless.
And one always wants to return to magic.
Our second visit failed, but it was not for lack of trying.
Earth To Body was heading west. This time our Windstar was pulling our new first trailer (we have upgraded twice since then). We were on a Banff through Jasper to Edmonton trek, having just finished working the Calgary Stampede . Heading to the Klondike days in Edmonton, how could we bypass Lake Louise without a visit?
If you have ever pulled a trailer, you can appreciate the challenges of a novice RV'er. Not only were we green to the ups and down of mountain travel, we were functioning on only one brake system. Not planned nor anticipated, of course.
If you have ever been scared on a roller coaster ride, you know the stomach churns. Nowhere to stop. Nowhere to turn around. No going back. White knuckle it and pray.
We finally made it to the Lake Louise parking lot, but alas, there were NO parking spots for our van and trailer combo. We ventured further uphill to the spots designated for people like us. All were taken by single vehicles. We were too big, too long and nobody cared.
'Maybe next year' became our lament as we, 'trailer between our legs', scooted back down the mountain, which proved even more of an horrendous ride.
Years went by and so did Lake Louise.
But today we had success. Even though the sun struggled to shine and the lake was dark and glossy, it was also serene and beautiful. Tourists buzzed about, posing and smiling to cameras clicking, and chatting in languages comfortable to them. Gliding red canoes contrasted against the dark waters and white snow. These canoes were painted red for a reason.
Now I have two memories of Lake Louise, and they differ. Revisiting is never exactly the same. And neither are we.