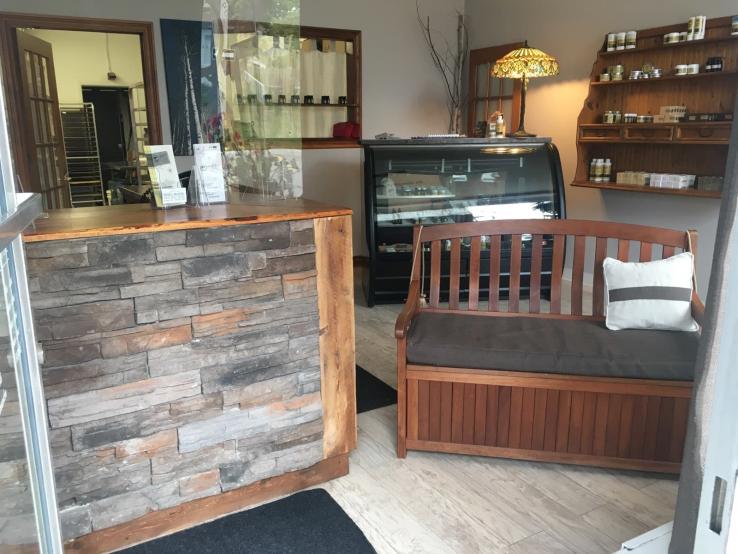 Business as usual. Well, almost.
We are happy to be open our boutique in Valois
for 3 days a week. New days.
New days-hours
Tuesday   10 AM- 4 PM
Wednesday 10 AM- 4 PM
Thursday  10 AM- 4 PM 
 
For  those of you who do not know us, we make organic and natural skin care. All homemade, handmade and free of all the bad stuff. Please do visit us at the store, and remember that you do have purchasing options. There is curbside service during the store hours, if desired.  
* Call headquarters (514-694-0705) in advance to pay  
* Call the store (514-428-0444) during store hours to place your order. We can offer it curbside upon your arrival.
* Visit the shop entrance. We have a large Plexi Glass Shield to protect at the cash. Masks are welcome but not mandatory as we do have the shield.
Customers will remain at the front of the store and converse with sales staff, who will retrieve any desired product from the shelves for you.  You can see the products but no one will be permitted to touch. The shop is small enough that you are able to view the product from the store front, but still maintain the required safe distance. You may sit on the bench to relax!
* Testing a product is at your discretion and will be done, as always, one testing stick per customer. Behind the shield. The Moneris machine and counters will be sanitized after each transaction.
We continue to offer handmade organic and natural skin care. If you are new to our shop you might like to pursue our website beforehand to familiarize yourself with our products. Or, if you like the personal touch, come by and we can explain things to you. Phone calls also work. Mornings are best but we will call you back if we miss your call.
Over the past couple of months many of you came by headquarters to do a front porch pick up. We are happy to be able to return to the boutique. 
Unfortunately, we will not be attending Ste Anne de Bellevue market this summer. We shall sincerely miss the market, but do hope that you will visit the shop instead. 
We have online shopping at all times. Shipping is still only $5.00 or free over $100.
Thank you so much for shopping locally and Canadian.
Our return policy still stands.  If you are dissatisfied with a product, it can be returned for a refund or exchange, within a month of purchase date.