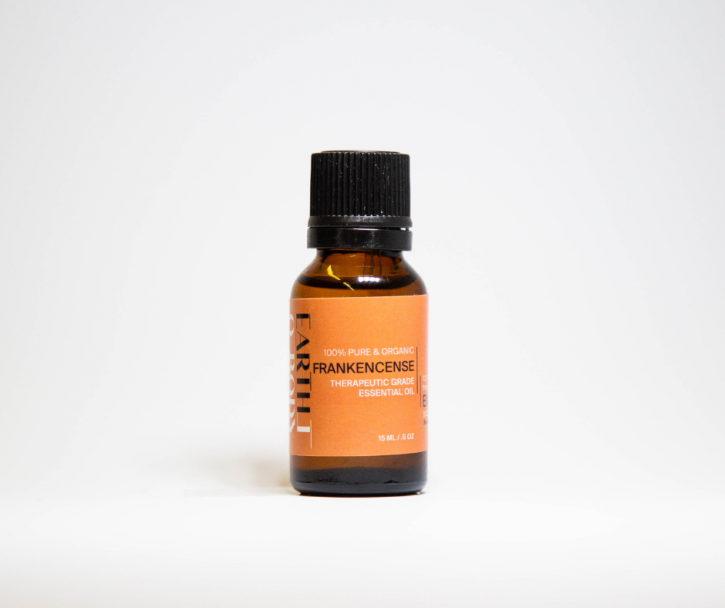 Pure, excellent quality essential oils of excellent quality are
often used both externally and internally. 
Earth to Body suggestions are for external use only.
100% pure therapeutic grade
Botanical Name: Boswellia Serrata 
Ingredients: Frankincense Boswellia Serrata 
Main component: a-Thujene: 60.2% 
Plant Part: Resin 
Origin: India 
Processing Method: Steam distilled 
Note: Frankincense oil prices vary. Different trees produce either high or low yields. (Some trees produce a high yield while others have a lower output.) yet studies have shown all oils are equally good and have the same anti-bacterial properties. We have chosen an excellent organically grown frankincense. 
Benefits: 
* Helps to tone and lift the skin: excellent anti-ageing formula 
* Helps reduces appearance of scarring and fine lines 
* Rejuvenates the skin 
* Soothing relief on of irritated, acne prone skin 
* Warm, woody, haunting, spicy odor 
* In aromatherapy, it can offer a variety of health benefits
How to use: 
* In a diffuser 
* Gently inhaled 
* Rub a drop of the pure oil (mix with carrier oil, if sensitive) onto on temples, soles of feet, hands, or neck to provide a calm, warm and soothing effect. 
* Add to your favourite carrier oil to enhance scent and nutrition. 
Tips: 
*May be best diluted in a carrier oil such as argan, emu, tamanu, coconut, shea, etc. 
Blends with: Basil, Bergamot, Cardamom, Cedarwood, Chamomile, Cinnamon Bark, Clary Sage, Coriander, Geranium, Ginger, Myrrh and Vanilla. 
As with all essential oils, consult your health care professional.
Exercise caution with children and pregnancy.
Avoid contact with eyes, inner ear and other sensitive areas.