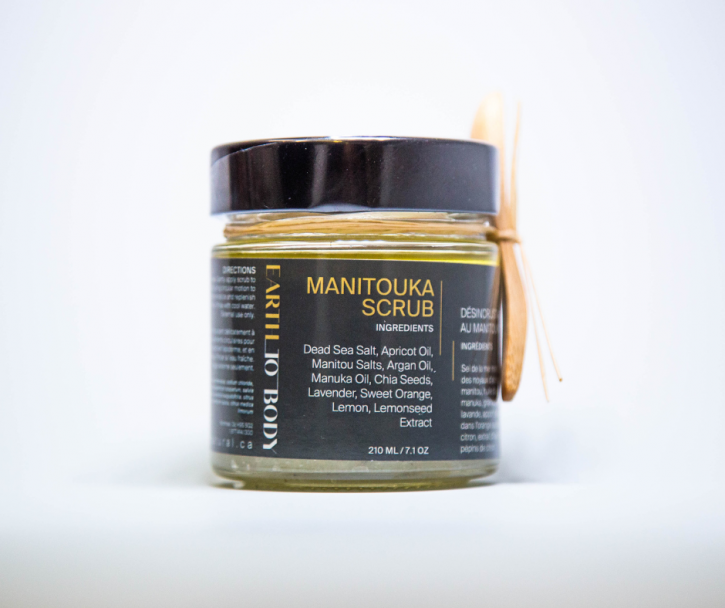 Benefits:
* Unique blend of Canadian Saskatchewan Manitou salts and  New Zealand Manuka oil
* No chemical preservatives, dyes, colours.  Nothing bad.
* Cleans, exfoliates, sloughs off dead skin cells, unclogs pores
* Excellent on acne prone skin, dryness, itchiness, eczema, psoriasis
* Can be used gently as a facial or an all over body scrub, or bath soak
How to Use:
* Stir in oils may that have risen to the top (happens in natural blends)
* As a facial: Generally used once a week. In shower or at sink, remove some of the salts with the small spoon and massage gently onto the face for a minute or so.  Rinse off.
* As a body scrub:  In shower or bath, gently massage onto skin. Can be used all over. About once a week
* In bath: Add 1-2 tbsp to bath water.  Soak and relax
Tips:
* A wonderful addition to the Skin Management Program
* Avoid water splashing into scrub to extend shelf life.  Water contaminates.
* After stirring, remove a few tablespoons to be used over a 1-2 week period to a small container to leave in shower or bath   Leave remainder in fridge to extend shelf life.
* Store in fridge and bring into bathroom for 'spa time'.
* Testimonials say that our Manitouka Scrub is the absolute best scrub ever.  Makes a great gift
Storage and travel:
* Can be stored in bathroom if used up within a few months
* In fridge, shelf life can be extended 6 months to a year (without water contamination)
* Remove some salts to a smaller container for bath use and leave remainder in fridge. 
* When travelling, make sure top is secure.  Best to place in baggie for air travel.
If you have a skin condition like acne, eczema, or psoriasis it is best to consult a health care professional. Your naturopath can help you understand the importance of avoiding chemicals and synthetics in both food consumption and body care.