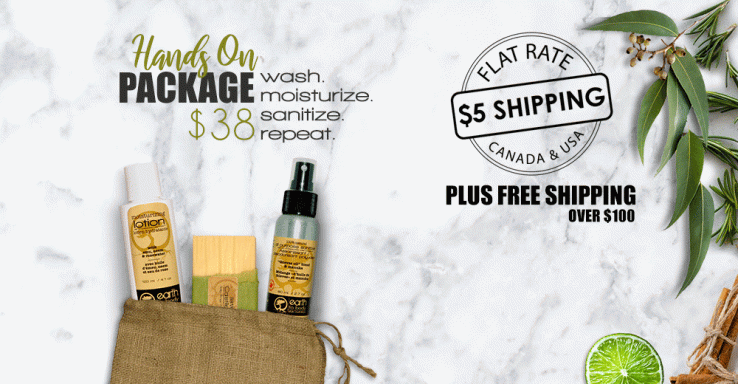 Covid-19 is an uncertain time. Unprecedented. We are saddened at the show closures and that we cannot serve you in person. We do, however, continue to have a good online and phone service. We know you are needing to wash, disinfect and moisturize. Constantly. We have introduced a new product package that will help:
Castile Coral Key Lime Soap
Moisturizing Lotion
All Purpose Sanitizer
Until further notice, we are offering a $5.00 flat shipping rate in Canada and USA on ALL orders under $100.00. 
For orders over $100, the shipping remains FREE in Canada and NOW in the USA too
Please note: This shipping means EXPEDITED. EXPRESS would cost more.
In Canada there is a tracking number.
In the USA, if you choose 'small packet US air' there will be no tracking number.
If you want a tracking number you will have to choose another shipping method for a cost
 
For a phone order or consult call  1-877-414-1300. (Local: 514-694-0705) 
We will be more than pleased to help you.
Best time to speak to a real person is between 9 AM and 1 PM EST, but leave a message and we will return your call. We have temporarily closed our boutique but not our production area. 
We thank you for continuing to shop Canadian.
Be safe. Be well. Foot hugs.
For our Edmonton Customers,
If you wish to shop through our distributor Ron and Darlene, please do continue to call them. They can arrange for pick up or delivery or mailing.
EARTH TO BODY WEST
Ron and Darlene  Herman
1919 - 65 Street NW
Edmonton, AB
T6L 1M1
780.619.2636 
See Article: Try 'Hands On'