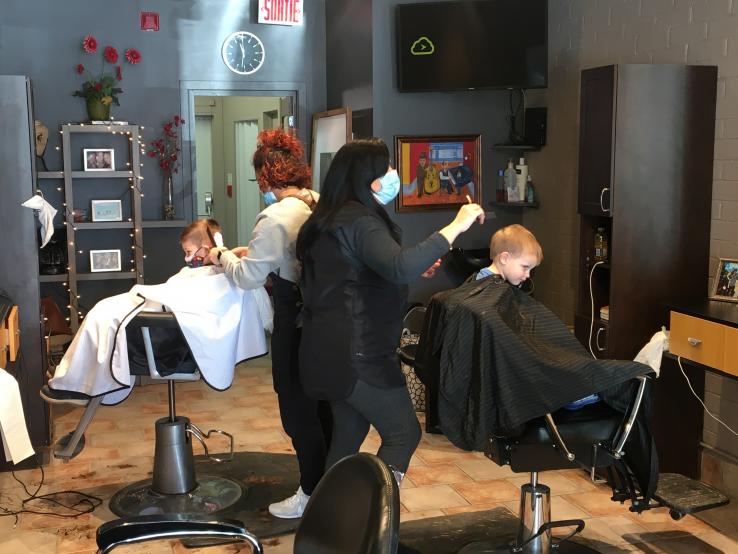 2022: Last weekend my grandsons ventured under the cape. Quite calmly. Kudos to the scissor experts and their kind demeanours.  Sidney, 5, old enough to require a mask, donned his favourite spiderman face cover. Felix, 2, was spared. This photo is taken 2022, yet is reminiscence of the past. Vintage Norman Rockwell.  Not much has changed in 70 years.  Well, the masks are new.  And there is less barbershop trauma involved.
Let's visit a 1950 Barbershop. A terrified child enters a strange smelling, oddly furnished room, with humongous chairs that rise and fall and whirl like living blobs. The mustache twirling, grinning barber welcomes his small challenge onto the perch, whooshing out the massive cape to fan over the quivering body. The barber, the stranger, making jokes, attempting to reassure his young charge, clip clip, ensuring the novice that getting a haircut is really fun. Tell that to the petrified child.  
Fast forward. Covid lockdown:  At home hair salon
The parent has to learn to cut their child's hair. Sidney and Felix take turns perched on raised cushions, mounted on a big living room chair, under a sheet that had ceremoniously been whooshed around them.  An initial game of hide and seek with the sheet cemented its comforting quality. They each sit up straight while Ma clips their locks. The boys grow familiar to the scissor snip sound and the sight of the tendrils feathering to the ground. "No big deal. If the dog can sit patiently getting groomed, so can we."
No fear of shears for these brave little rascals. 
Fast Forward. 2022. The hair salon beckons.
"Your boys are beautiful. And so well behaved.; chimed the stylist as Sidney and Felix, freed from the cape, shorter and lighter, donned their jackets, smiling. "Thank you for cutting our hair. Daddy, can we have our treats now?"
We thank all hair dressers, barbers and stylists. We appreciate you so much more since Covid. We no longer take this essential service for granted.
And by the way.  Need we remind you that we sell amazing shampoo bars for the hair?