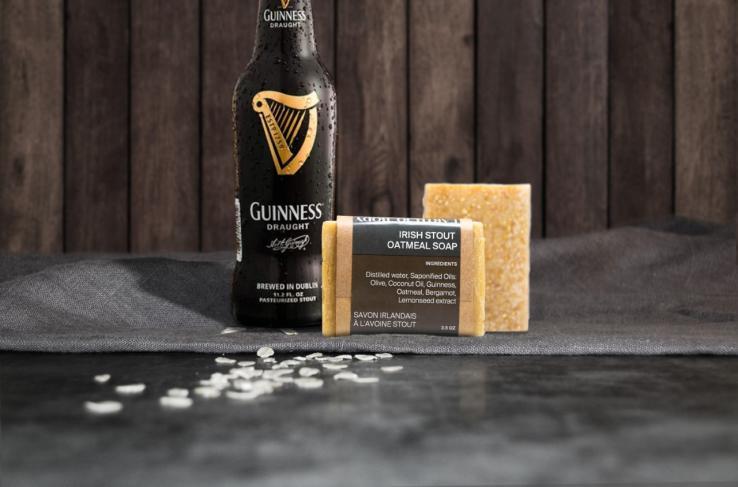 It's got oatmeal, but it's a No Eat.
It's got Guinness, but it's a No Drink.
It's a rub and scrub.
It's Irish.
And it's spectacular.
Let's celebrate St. Patty's Day with our Irish Stout Oatmeal Soap. Shower and clean, head to toe with this delectable bar and if feeling devilish, sip a Guinness on the side.  
If there is any left in the bottle, and as long as it has had time to go flat, pour some on your head as a rinse!  In a rinse or in a soap, it works better when flat.  
Earth to Body makes only natural bar soaps. They are extremely nutritious to boot. No synthetic dyes. No chemical additives. Pure soap, not a detergent bar. Our Irish Stout Oatmeal soap is just one of many we make. And what a gem! It has a titch of pure essential oil of bergamot, to tease the senses.  
Your skin loves the oatmeal in the soap. We use Red Mills gluten free oatmeal to hydrate and nourish dry skin. This addition makes a great slougher for dirt, excess oils and the unwanted dead skin cells. We make it all by hand and sometimes during curing, the oatmeal drifts to one preferred side of the soap creating an excellent exfoliant on that side.  The soap can then be twirled to be smooth or rough as your body dictates. 
Beer itself is made with barley, hops, roasted malt and yeast and is full of B vitamins, protein, iron. A natural skin moisturizer. Beer is hardly a new phenomenon in skin and hair care and is one we should relish in. Guinness is a prime selection and helps keep a clear complexion. So remember to go head to toe.
Treat yourself to our Irish Stout Oatmeal Soap this St Patty's day and discover it as an all year round spa pleasure.