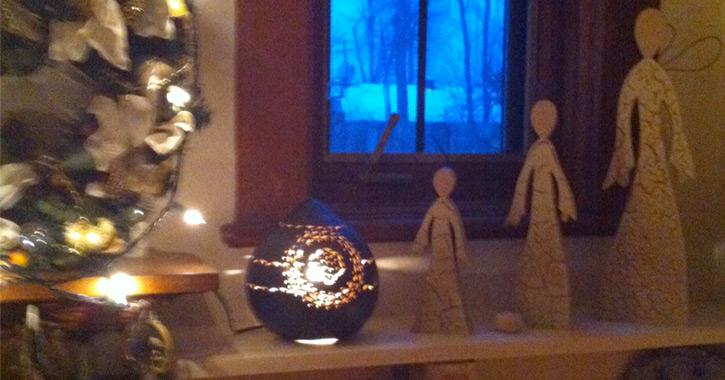 Oh, how I love, absolutely love, this time of year. I know it can be stressful and hectic, but all that aside, the Christmas spirit makes me giddy.
(This photo is one corner view of our Christmas decorated 2013 living room at 2 Lakeside.)
I have a story to tell.
Circa 1990's.
I was around 40 years old, give or take, wife and mother of two young teens, full time high school teacher.
It was a Saturday. Snowmen with carrot noses and rock black eyes smiled at me as I drove home along the Lakeshore road in typical suburbia. It had been a long day at a conference downtown and I was anxious to get home to enjoy the remainder of my weekend and encourage my family to put up the Christmas tree. Last I heard from Hubby, the tree was in its 'branch relaxing stage' and we couldn't put it up until Sunday.
I knew the delay was an excuse.  My young teens were at the 'I'm too cool to decorate a tree' stage and my husband preferred TSN.
"Omgod…where was the fir tree?" I wondered. The porch was empty. I opened the back door and the most incredible scene unfolded before my eyes.
The Christmas tree, perched upon its table nest, towered 6 feet into the domed cathedral ceiling, sparkles of white, red, green and blue.  
'It's beginning to look a lot like Christmas', caroled from the stereo, the girls were singing as they dove gleefully into the box of Christmas ornaments, each treasure extolling a comment.  John was perched upon a ladder, settling the angel onto the tree top.
"Look, Mom, remember we made this decoration together when I was in grade 2?
"Oh look, Grandma needle pointed this Santa and puppy."
A scene from a movie. The perfect family at Christmas time.
I was speechless, teary eyed and in awe. 
I couldn't wait to join in the fun. I tore off my wool mittens, boots, hat, and coat, relishing the beginning chorus of  'Little Town of Bethlehem'
Suddenly my husband chimed,
"Game's over, girls. You can stop pretending now." Tara leapt over the couch to return the stereo to ACDC, Heidi grabbed the TV remote reinstating 'Home Alone', and John grinned as he strutted back into the kitchen. "We got you started, honey!"
Perfectly staged. I had been totally duped. But it was all in good fun, as I was  surrounded with hugs and kisses and 'Just kidding', Mom, we love putting up the tree."
I smiled as I joined in the ornament hunt.  We couldn't contain the laughter.  It really was the spirit of Christmas.
John and I just finished decorating our 2013 tree. 
Wishing you all a very Merry Christmas and a Happy Holiday Season!