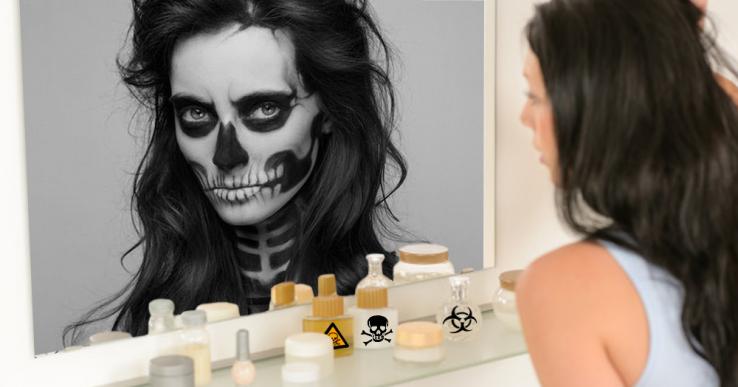 THE TRUST
Clean with soap,
Shampoo the hair,
Lotion the bod,
Talc with care,
Polish the teeth,
Gargle and spit,
Spray the hair,
Cream a bit
Foundation first,
Apply the blush,
Redden the lips,
Looking lush!
Shadow the eyes,
Lengthen the lash,
Line the mouth,
A perfume splash
The final touch,
SPF in tow,
No sun for me,
The fatal foe
THE TRUTH
(The Mumbo Jumbo Recipe)
Soap with PH 9
and Cocoamide DEA.
Sprinkle on a little asbestos.
Petroleum the body to moisturize
Polish teeth with saccharin and more petroleum
Rinse the mouth with toxic alcohols.
Coat hair with PVP¹s
Paraben and propylene glycol to moisturize
Lather on the paraben and glycol again as a cover up
Highlight the cheeks with FD&C Red #3
Paraffin and benzo the lips
Feeling deadly yet?
Toxify with Iron Oxide to color the eyelids
PVP the eyelash along with the all the bacteria
that hangs out in the mascara.
Ethylhexyl acrylate to outline the lips with more carcinogens
Add a spritz of toxic scent toluene and benzaldelhyde
Add the pièce de résistance for the final touch: Padimate O and BNPD
preservative in the sunscreen, creating a carcinogen with a wild name:
NMPABAO
Mumbo Jumbo ..I am now a toxic bath of cosmetic pleasures.
by Martha Shannon