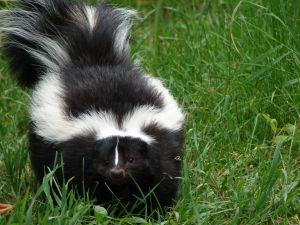 My Border Collie/Lab mix is named Tuxedo. Makes sense since he wears black and white. Tuxedo is in love with his near mirror image, Pepé Le Pew, the famous cartoon skunk renowned for his flirtatious antics with the ladies, and now with Tuxedo. Pepe lives in our backyard.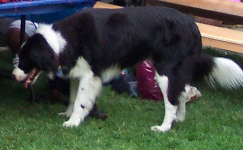 It's the tails. Both Tux and Pepe flirt flick. Pepe lures Tux in every time. Tux forgets that he will end up being back ended, shunned and sprayed.
Love  gone awry.
I see the skunk. I whistle for Tux but he is deaf around Pepe. I wish for Cesar Milan to miraculously appear. I wish this was not happening. But it is all over in a split second, Pepe's malodorous scent prevailing.
The only thing to do is unroll the hose, get out the bucket and lather up. . Hopefully one good friend is around, with whom you promise to share your million winning lotto ticket, offering to help you wash the sad eyed Tux.
Sleeves rolled up, noses taped, and Earth To Body regular shampoo in hand….you are set to go. Yep, it works. Lather and scrub, avoiding the eyes and cursing Pepe and his shameless ways. Rinse, lather and scrub again, rinse some more. Now for the finale, the Apple Cider Vinegar rinse massaged gently but thoroughly through the mane to tail.
Our shampoo and our vinegar rinse really do work. It is the best. It is the only reason we have not shot Pepe (just kidding).  At lease we know we can survive a skunking.
There are many natural solutions out there, from tomato paste to salt baths (adding salts to the water is a great idea).
Share your stories with us.  And let us know what worked (or not!) for you and your pet.