The Christmas decorations are packed away, extra fat has been packed on and some of us are lucky enough to be packing suitcases en route to more gentle and balmy temperatures.
The gardeners all seem to be gazing longingly at the frozen landscapes that, just a few months ago, were lush and green...and almost exotic in comparison!  Even our friends in 'tropical' B.C. have been dealt their share of 'old man' winter (and a grumpy old man at that!).
Take heart, volumes of glossy, beautifully illustrated gardening books and magazines await our deprived eyes – if you're a gardener, you've must have splurged on at least one of these!  If not, just visit your local library and bring home as many as you can carry. 
In the meantime, don't write off the beauty of your winter garden.  As I mentioned in the fall clean-up list, leaving a few perennials intact, as well as objects of interest, can greatly enhance your landscape, even during the long winter hibernation.  For the first time, we left our favourite statue outside to brave the winter elements.                                                                                                                                             
  Our wood nymph 'Rose' awaits her winter coat.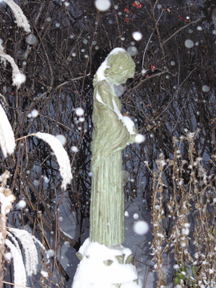 Morning comes and Rose is blanketed in a fluffy coat of newly fallen snow.
 She is kept company by her neighbours: miscanthus sinensis 'purpurea', rosa rubrifolia, astilbe, and a towering white pine. The rose hips are particularly colourful and attractive in the 'winter garden'
Elsewhere in the garden are a few other 'stars'.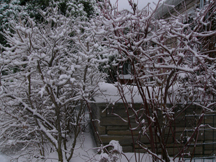 The red bark of variegated dogwood (with pal 'purple smokebush' on the left) makes this a shrub with all-season interest.
To help prolong their 'life', we reluctantly pack away all our wooden flowerboxes in the garage until spring, with one exception…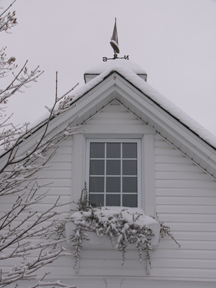 Left untouched for the winter, is this little flowerbox perched high on our garage. The silvery stems of the annual licorice plant (helichrysum petiolare minus) look particularly pleasing with their covering of newly fallen snow.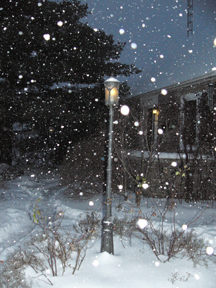 Night falls and with it more snow. My 'Narnia' lamppost, sitting amongst a bed of roses and lavender, provides a little comfort with its soft light.
Good night until next month!