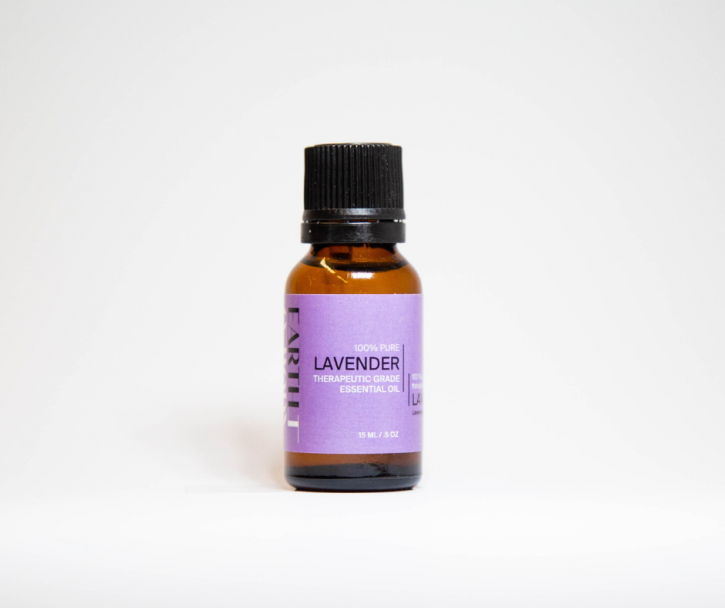 Pure essential oils of excellent quality are often used both externally and internally.
Earth to Body suggestions are for external use only.
Botanical Name: Lavandula angustifolia
100% pure therapeutic grade
Main Constituents:
Linalool: 28.47%
Linalyl acetate: 31.99%
Camphor: 0.24%
Plant Part: Flowers
Origin: Bulgaria
Processing Method: Steam Distillation
Description / Color / Consistency: A thin, clear, colourless to pale yellow liquid.
Benefits:
- a strong, sweet herbaceous-floral scent 
- calms, reduces tension, promotes sleep
- calming on sore muscles and pain
- reduces appearance of scars and wrinkles
- helps to soothe skin breakouts
How to use:
* in a diffuser
* add to a carrier oil to apply to skin, breathe to relax 
* add to to a pillow, mattress, yoga mat etc
* add to bath or shower
* inhaled or vaporized
* dilute in a carrier oil to massage
Tips:
* May be best diluted in a carrier oil such as argan, emu, tamanu, coconut, shea etc.
Blends With: Bay, Bergamot, Chamomile, Citronella, Clary Sage, Geranium, Jasmine, Lemon, Mandarin, Orange,Palmarosa, Patchouli, Pine, Thyme, Rosemary, Rosewood and Ylang-ylang
As with all essential oils,  consult your health care professional.  Caution with children and pregnancy. Avoid eye, inner ear and other sensitive areas.