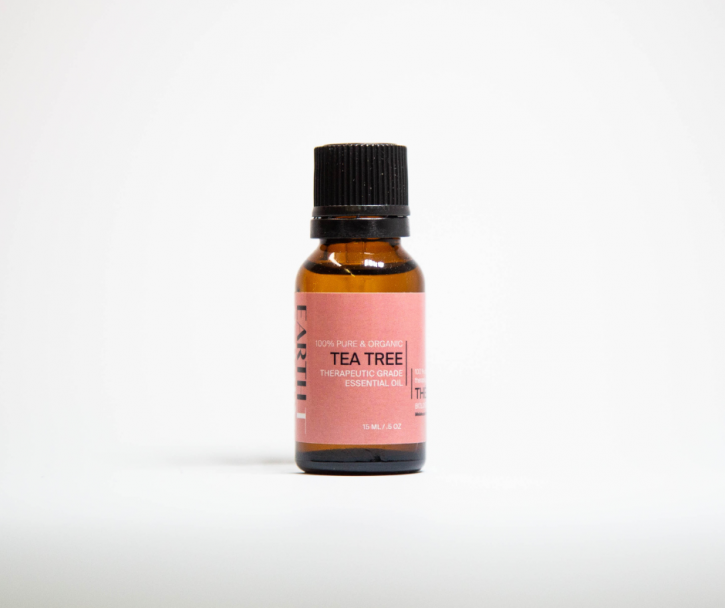 100% pure therapeutic grade
Botanical Name: Melaleuca alternifolia (NOP National Organic Oil Certified)
Main Constituents:
Terpinen-4-ol: 40.40%
Plant Part: Leaves
Origin: Australia
Processing Method: Steam Distilled
Benefits:
* Cleanses and helps to ease redness and restore fresh skin
* Soothes irritated skin, especially acne, eczema prone skin
* Helps to reduce skin breakouts
* Excellent on reducing dandruff and itchy scalp
* Helps combat oily skin
How to use:
* A few drops in a diffuser to cleanse and refresh
* Add a drop or two to your shampoo or conditioner and massage into scalp  
Tips
 *Warm about 1 tbsp. of our butter (Sheamu or Shargan) in your hands, adding a drop of tea tree oil.
* Make an all-purpose cleanser by adding 15 or more drops of Tea Tree to ¾ cup water and ½ cup    apple cider vinegar in a spray bottle.
* Add a few drops to our neem salve for foot issues.
* Add to our apple cider vinegar hair rinse to soothe and condition scalp area
* Add a drop or two to your favourite carrier oil, emu and argan, emu, tamanu, coconut, shea, etc. 
Blends With: Cinnamon Bark, Clary Sage, Clove Bud, Geranium, Lavender, Lemon, Myrrh, Nutmeg, Rosewood, Rosemary and Thyme.
As with all essential oils, consult your health care professional.
Exercise caution with children and pregnancy.
Avoid contact with eyes, inner ear and other sensitive areas.