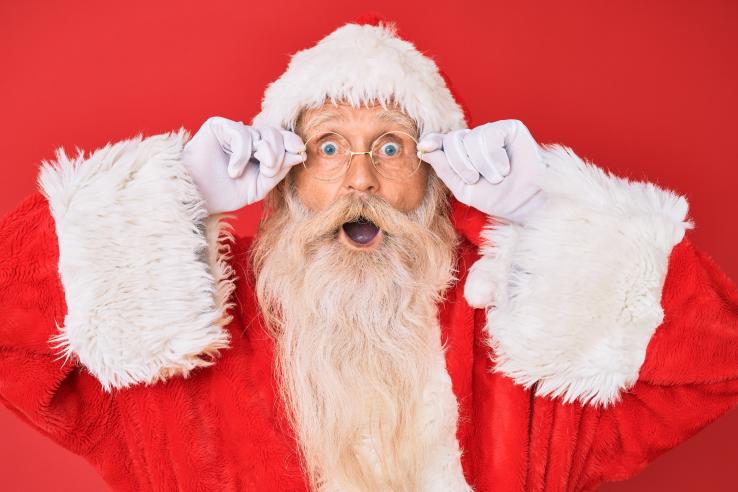 Santa knows. Last year we left him a small argan oil gift beside his cookies and milk.  He sent us this selfie.
Beards require great care and beard oils save the day. We offer pure argan oil, to which you can add a drop of your favourite essential oil, if desired. We suggest not adding synthetic fragrances.  EO's are healthier.  
Argan oil can be added to another carrier oil such as our unrefined emu. The blend is great on the skin and beard. 
Adding a drop of Frankincense calms the skin, promotes growth and shine. It also helps remove ingrown hairs if that is an issue.  Another popular essential oil choice is rosemary, improving the skin's tone and complexion.  Rosemary helps to moisturize the skin, thus helping prevent dandruff and dry, itchy patches which are definitely undesirables.
Beard wearers do not wish to suffer 'beard itch' or 'beardruff'.  If the skin beneath the beard is healthy, so be the beard. Moisturizing is key. Whether you support a stubble, or a fuller beard that needs to be tamed, the end goal is clean and shiny. Smelling fresh is the bonus.
It is suggested to use your beard oil a few times a week. In the morning works best on clean, moist skin. After a shower is perfect.  Your beard will tell you how often to oil.  Make whatever rules work for you.
What happens without beard oil? If unattended, the beard can be dry and wiry and uncomfortable. Spoil it with an oil.
Thinking of a stocking stuffer? Or perhaps a wonderful 'Under the tree' gift for a bearded one? We have pure eco cert argan oil and/or unrefined emu oil. And several high-quality essential oils to accent the oil.
Ask Santa. He sees and knows all.