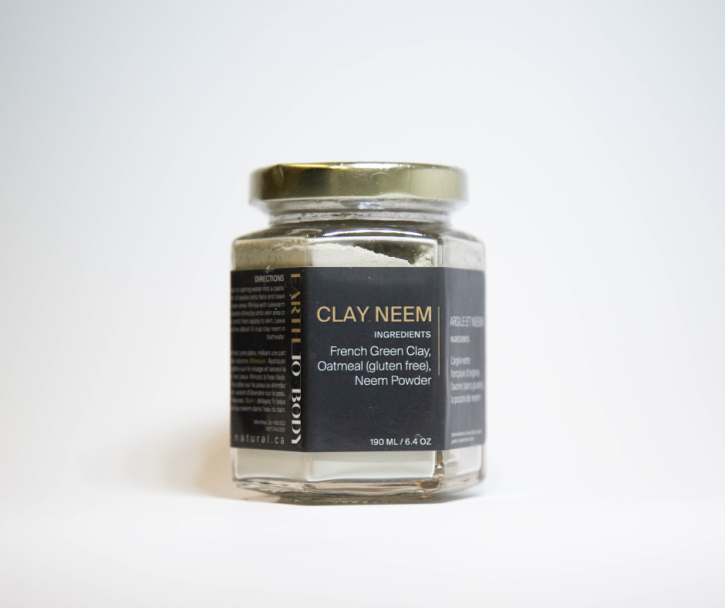 Benefits:
*Our clay-neem mix with organic, gluten free oatmeal, is a DIY ensuring 100% chemical free.
* Deep cleanses, removes toxins, adds minerals to skin
* Soothes itchy dry skin from irritating skin conditions
* Excellent on soothing rosacea, acne, eczema, psoriasis prone skin
* Our clay-neem is an integral part of our Skin Management Program
How to Use:
* As a mask: Mix clay-neem: water (about 1:1 ratio until a mud consistency)
* As a poultice: Same as above. Apply to skin and wrap in flannel cloth
* In the bath: Add 2-4 tbsp clay neem to warm bath and soak.* 
* For very itchy skin, hives: Follow directions to make your mud-like clay consistency. Apply to skin.  Allow to dry a few minutes and then soak in bath.
Tips:
* Have fun with your facials.  Add fruit, (avocado, strawberries, lemon etc), honey, our apple cider vinegar blend, our linen spray or facial toner to clay mix
* Testimonials say ours is the absolute best mask ever tried! Makes a great gift.
* Important for all skins to detoxify.  Make sure to use a regular basis
Storage and travel:
* Easy care