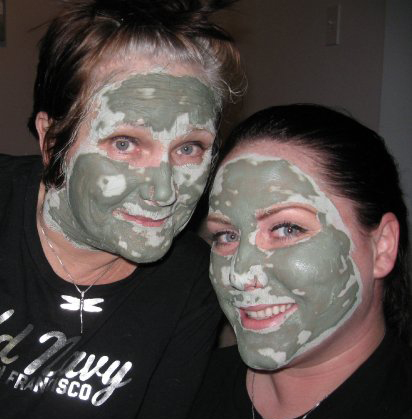 Written by: Martha Shannon
Ingredients needed:
-Plain Yogurt
-Avocado
-Soft Banana
-Argan Oil
-Clay Neem (optional)
-Emu Neem Soap (optional)
Keep your skin glowing and feeling great.  If you have our Clay Neem Facial Mask, you can always add 1 tsp. of the Clay Neem to the following recipe, or just enjoy the YABA facial on its own.  I believe it is preferable to use organic fruit and yogurt, but it is not compulsory. 
Great for combination and /or sensitive skin.  And tons of fun to do it with a friend!
 "We love everything from Earth to Body, especially the clay mask!"
-Sue and daughter Sharise
In a blender,
1/2 Organic Soft Banana
1/2 Organic Avacado
2 tbsp Organic Plain Yogurt (OR 1 tbsp yogurt and 1 tbsp kefir)
1 tsp Argan Oil (or Olive Oil)
1 tbsp Clay Neem (optional but awesome!)

 Instructions:
Puree all ingredients in a blender.
Apply to freshly cleaned face (preferably washed with emu-neem soap!) and leave mask on for 15 minutes. Wash off with warm water and pat dry with soft cloth (if you have a bamboo facecloth you will really spoil yourself!)
Save the other halves of the avocado and banana.  Sprinkle with a wee bit of lemon juice to stop them from turning brown, and enjoy them in a salad!