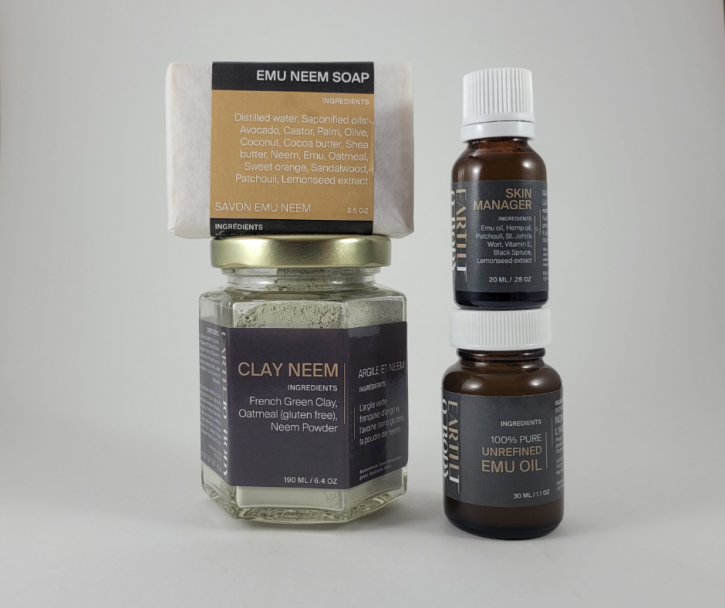 Benefits: 
* Daily cleansing, moisturizing, weekly deep cleansing, spot treatments
* The clay neem and the soap are natural antibacterial cleansers
* Skin manager is an excellent spot treatment
* Emu oil moisturizes, conditions and is miraculous on skin
* A good basic program for all ages and skin types
* 100% natural goodness
Package Includes:
Clay-neem  (190 ml) $21 

Skin Manager (20 ml) $18
Small emu oil  (30 ml) $29
Emu-neem soap (4.5 oz) $12
(Total value $80.00 Save $11.00)
How to Use:
* Morning and evening:
- Wash face with emu-neem soap. (Store soap in a drain dish to dry)
- Apply a small amount of skin manager if needed on dry, irritated spots
- Apply a thin coat of emu oil.
* Once a week:
-Wash face with emu-neem soap.
-Mix one tablespoon of clay with one tablespoon of distilled water* to produce a 'mud'. Apply to face and let dry (10-15 minutes). Rinse off.
-Apply the skin manager (if needed) and then the emu oil.
 *Additions to program:
- Facial Toner: Use the toner daily after cleansing. 
- Manitouka Scrub: Use the scrub once a week.  Can be used after the clay neem
Tips:
* As with any new natural cosmetic program the skin may undergo a few changes as it becomes cleaner and healthier, and may take a few days to do so
* Best NOT to confuse the skin with other commercial products
* May help relieve itchiness and dryness from acne prone, rosacea skin 
Do not hesitate to contact us with any questions.