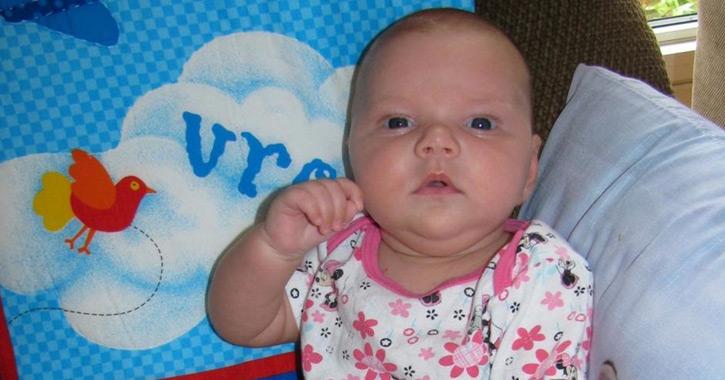 (This is a photo of baby, Julia)
 Thinking zinc works! Thank you, Marlies, for this wonderful testimonial on our zinc oxide.
Hi,
"I just wanted to give you some positive feedback and let you know how much
your Zinc Oxide cream has helped. My newborn daughter developed a severe
diaper rash that caused open wounds on her bum whcih looked terrible and
was, of course, painful.
Doctor's were stumped and just recommended to keep
applying diaper rash creams but no matter what diaper rash creams we tried,
it either made the condition worse or it did nothing.
I had bought your Zinc Oxide cream at the craft show in Ottawa in December, 6 months before Julia
was born, thinking I could use it for my son but it got stashed in a corner
and we kept using the name brand stuff for him with no major issues. Well,
with my daugther we pulled out all the creams in our cupboards trying them
one by one and your cream was the only one that showed a difference in the
rash. The more we used it the more the wounds healed and eventually went
away.
Today her rash is completely gone and we are using the cream daily as
maintenance to ensure it doesn't come back and so far so good. I'm placing
an order today for more so that we don't run out because I also started
using it on my son.
Thanks so much for a wonderful product. You should really promote it as a
miraculous diaper rash cream, I will be promoting it that's for sure."
Marlies P., Ottawa
Dear Marlies,
Thank you for sharing your success story and for including a photo of your beautiful baby! You must be thrilled to have helped your baby through this stressful time.
Mothers have known about 'zinc for baby diaper area' for a long time, but it is not always easy to find a good zinc blend. So many commercial products contain formaldehyde (never obvious on labels) and parabens. Perhaps your baby had an allergy to one of these strong preservatives.
As Earth To Body is not a registered health company, we cannot make certain claims on a product. However, we most certainly appreciate it when a customer, like yourself, lets us know how a product works for them.  
Please do your own research on wonderful ingredients like zinc, emu, neem, tamanu etc. You can also visit our ingredient list where we often suggest sites to inform you of the particular  attributes of an ingredient.
Thank you again, Marlies, for taking the time to write.
Martha,
Earth To Body
Please do share your stories. On zinc, on your baby, your child, on the frustrations, the successes...we just love to hear from you.