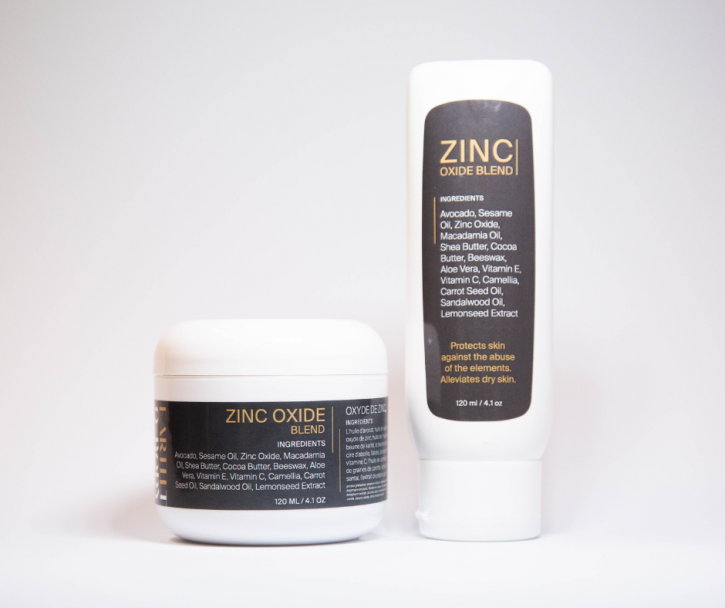 Benefits:
* A formaldehyde-free zinc blend is almost non-existant on the commercial market
* Fomulated with 20% zinc to provide protection agains t extreme weather elements
* Renowned for protection against the summer sun and the snow glare
* Testimonials on diaper rash, eczema , psoriasis prone skin
* Blend is 100% natural (see ingredient listing), leaving skin soft, silky, nourished
* All ages, all skins  (darker skins may need more blending into the skin)
* Should NOT leave a white film once rubbed in
* Offered in a tube or a tub
How to use:
* If oils have risen to the top, shake first or use a small utensil to stir.
* Rub gently onto the skin until salve is smoothed in.
* Can be applied anywhere on the body
Tips:
* This is a salve/ointment  consistency.  It is not a cream.  If slightly grainy, depending on the  various textures of the natural ingredients, the heat of your hands will melt it down.
* You may prefer the tub container to the tube at a baby changing table for easier handling.  Babies also love our Baby Neem Salve and/or Emu Oil.
* Tube is great for the beach and for multiple users.  Near the end, warm under water to loosed last precious zinc from tube container
Storage and travel:
* Stores well.  If wanting to keep it for a year keep cool.  Travels well.