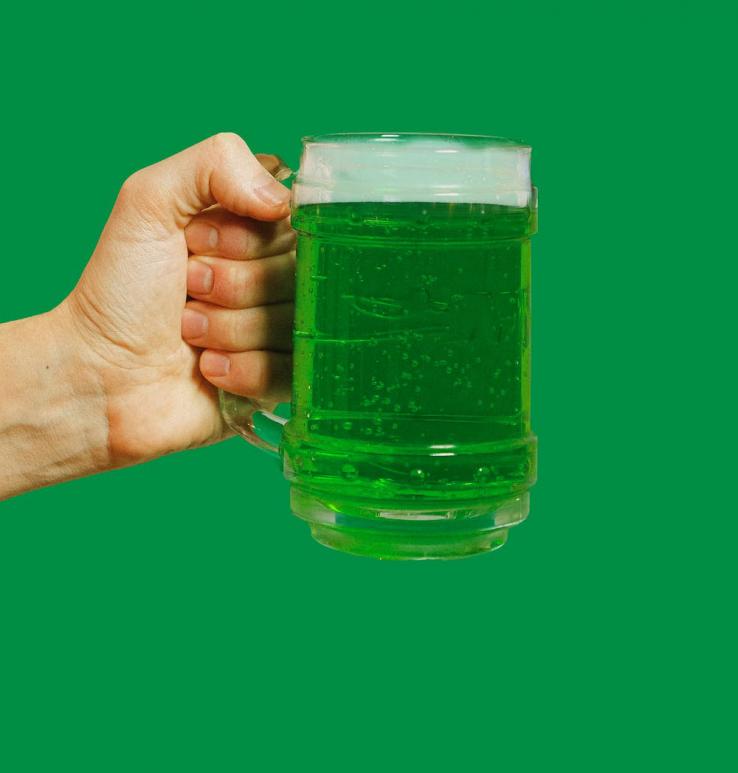 "Is that a St. Patty's Day special?" My house quest grimaced at my glass of green sitting on the dinner table.
"It is!" I chimed. "Cheers to St Patrick's Day", as I held up my glass of chlorophyl.  "May I entice you to try a chlorophyll delight?"
"Aha. The drink that gives energy! Is this where you get your stamina? If it does the same for me, I'll try it." She raised her glass to toast. "And as the Irish say ' May you live as long as you want and never want as long as you live.'"
Chlorophyll, essential to photosynthesis, allows the plants to get energy from light and turn into oxygen. When humans take it as supplement it improves one's overall health. It is non-irritating, gentle and totally non-toxic. It is renowned for ridding the body of toxins. 
It can be taken internally but can also be used externally for good skin care. Consuming greens like spinach, broccoli, kale, asparagus, algae, matcha tea are good internals sources of chlorophyll.  Liquid chlorophyll can also be purchased at a health food store, to be taken internally or for the adventurous, to make your own DIY skin care.  Just follow the recipe.
On the skin, chlorophyll acts as an effective. anti-inflammatory, anti-bacterial and antioxidant agent. While there are cosmetic products with chlorophyl available on the market, please do read the labels carefully to avoid any of the less than desirable ingredients we often write about.
Earth to Body adds chlorophyll to three products.  Our Nori Neem soap, with pumice sand, nori seaweed and chlorophyl makes a great exfoliating cleanse. It would also help soothe any skin irritations, such as shaving nicks, blemishes etc.
If you want a great relaxing nourishing soak, try our Dead Sea Salt bath with salts, clay and chlorophyll to cleanse and soothe the entire body.  It is a good and safe way to gently  experience chlorophyll on the skin. 
We added chlorophyll, renowned for reducing odor, to our Manuka Mouth Freshener as it helps to clean and maintain fresh breath. It really does work! 
Cheers  to all this St. Patty's Day . Whether you choose a green drink or a Guinness, sláinte, we share with you this famous Irish toast:  'Dance as if no one were watching, sing as if no one were listening, and live every day as if it were your last.'