Jojoba oil (simmondsia chinensis) , Excellent moisturizing and emulsifying properties. Jojoba is rich in Vitamin E, contains proteins and minerals, as well as myristic acid, which calms the skin. Jojoba is excellent at soothing dry, itchy skin and as a protectant in weather conditions. 
Our good quality Jojoba oil is non-comedogenic and generally non-allergenic.*  It should not be ingested nor put into the eyes, but is safe on the skin.
Our jojoba oil is pure, unrefined and certified organic. 
* This quality oil rarely has any allergic reactions, but the possibility is there for the very sensitive. Patch testing is always recommended.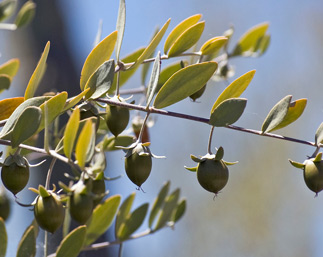 Products containing Jojoba oil