Jojoba oil (simmondsia chinensis) Excellent moisturizing and emulsifying properties. Jojoba is rich in Vitamin E, contains proteins and minerals, as well as myristic acid, which calms the skin. jojoba is escellent at soothing dry, itchy skin and is excellent as a protectant in weather conditions.
Jojoba oil is non-toxic, non-comedogenic and non-allergenic. This means that it will not clog pores and will not cause any allergic reactions. It is also not an irritant, so it can safely be used around the eyes and on the skin. In addition to that, it does not cause a greasy feeling when used on the skin like other oils do.
Our jojoba oil is certified organic.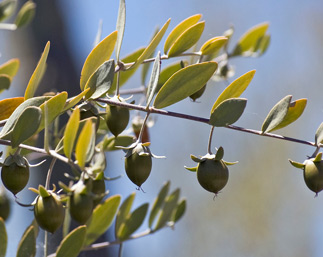 Products containing Jojoba oil