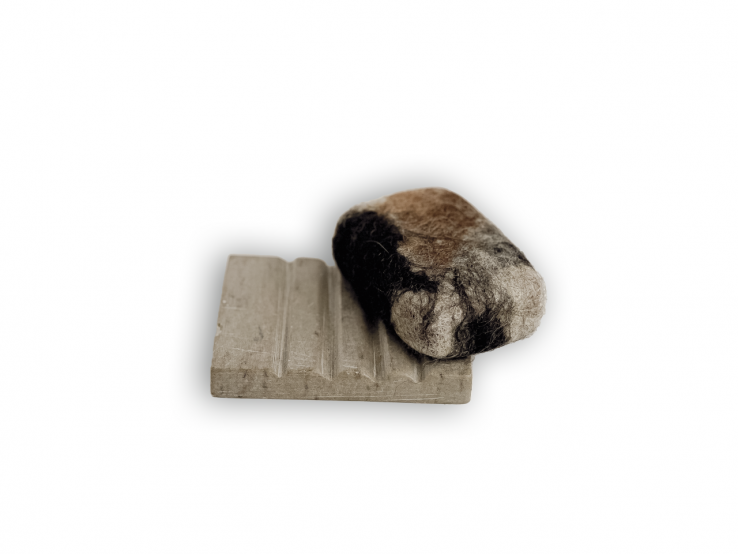 'You are  wondering what that stone is for, aren't you? I smiled, as the young teen curiously turned the stone dish over ? 
"I know it is a stone but I'm not sure why it is carved this way?" he queried as he ran his fingers over the gratings.
Soapstones, hard crafted by Ian Coffin. Carved to let the soap air dry. A soap dish for a bar of soap. And they are selling like crazy.
Once you experience a homemade soap, it is hard to go back. People are loving our soaps. They love the cleanse, the nourishment and the miraculous results.  Real soaps need a soap dish.  
Soap dishes come in plastic, ceramics, bamboo, glass, wood, some beautiful, some not so. Some function better than others. But a dish carved from soapstone is exceptional. It is handmade, Canadian and is nature's perfect complement to a homemade soap.
Real soaps do soften if left in water, so they need to be air dried once used. Soap dishes have an uneven surface  to allow air circulation to flow under the soap and water to drain.  Thus the carved dip lines on the soapstone. 
Pump soaps stand freely and do not require a dish. While soap detergent bars do need a resting place, they do not have the same need for the air circulation as a true soap.  Detergent bars stay hard as a rock (added chemicals will do that) 
Our Merino or Alpaca felted soap on soapstone make the perfect combo!
You will adore our felted soap. An eco-friendly one stop cleansing sensation. Clean, exfoliate, nourish the skin. Afterwards, recycle to a scrub pad
Enjoy
In the bath 
In the shower
At the sink
On a Vay Cay (excellent at removing ocean sand)
Our alpaca and merino felted castile soaps are magical.  
The wools are in their natural hues, no dyes or synthetics. Just as nature intended
Our Alpaca is felted on a no scent moringa castile soap
Our Merino is felted on a gentle essential oil key lime castile soap
A perfect resting spot is our handmade Soapstone soap dish 
The young teen inspecting the soapstone was intrigued.  He especially like the idea of carving on soapstone, maybe one day making his own dish.  He also was anxious to try a 'real ' soap.  "The felted soaps are cool too", he said.  "This gives me an idea for Christmas shopping. My parents love natural things. Thank you." 
The Combo Felted Soap and Soapstone dish can be purchased for $33.00 (a 12% savings) until December 25th incl.