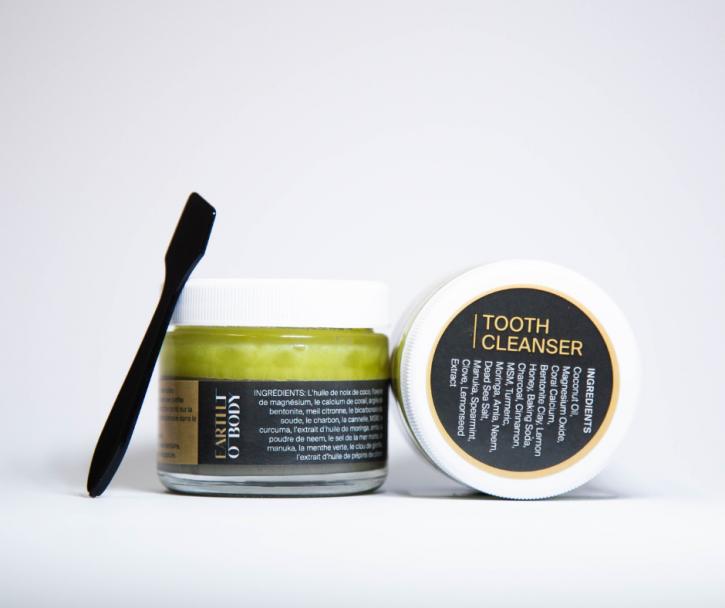 Benefits:
* Avoids the chemically laden commercial toothpastes
* May not be white in colour, but turmeric, moringa, clay, charcoal whiten.
* From nature.  100% natural paste to clean, brighten and whiten
* Challenging to say the least.  A different experience and worth it
How to Use:
1. Remove a pea size amount of paste with the small spatula provided.  To preserve the shelf life and avoid contamination do NOT put toothbrush directly into the paste
2. Insert spatula with paste into mouth OR place paste onto toothbrush. 
3. Brush teeth as you would normally.  Do not swallow.  
4. Rinse. Floss. Smile.
5. Rinse and wipe sink residue with warm/hot water and or wet cloth (easy to do when sink is still wet).
6. Clean small spatula. Congratulate yourself on a cleaning job, well done.
* Should be used up in 1-3 months.
* Can be used once or twice daily.  Supplement with our all-natural Mouth Freshener
Tips:
* Beware. Behaves like coconut.  Temperature sensitive.
* Upon opening the first time, if some of the white coconut has risen to the top, give the paste a stir with the spatula. 
* If too warm, the entire paste may have melted down. Stir.
* If too cold, wait until it reaches a normal room temperature.
As this is a new experience, you may need to try it more than once. Several times. See your dentist. See the results. Hear the congratulations.
Storage and travel:
*Bathroom is fine as long as tooth cleanser is used daily.  If kept in fridge, it will be too hard a consistency. . 
 Most commercial toothpastes are NOT  antibacterial, anti-fungal, anti- inflammatory.  Changing to natural is good.